Spaghettini with Golden Tomato Sauce
The jewels of the yellow-orange tomato family, Jubilee, Yellow Brandywine, Russian Orange, Mr. Stripey and Jaune Flamme come together to make an absolutely glorious golden sauce. It is an enticing combination of sweet and spicy warmth, and a perfect match for spaghettini. Serve the pasta in a large bowl, toss with the sauce, and arrange cut or quartered orange tomatoes around the pasta. Top with basil and pass the Parmigiano.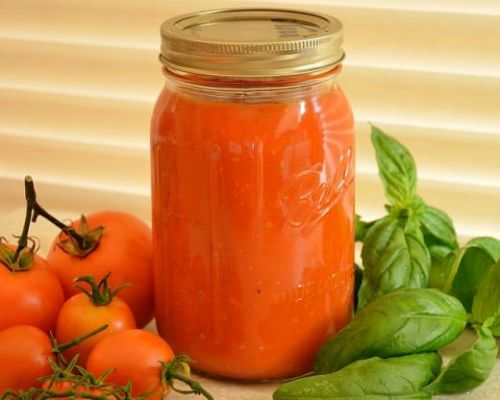 Ingredients
For 2 Person(s)
For the Spaghettini:
5

pounds

yellow or orange tomatoes, plus several tomatoes for garnish

1/4

cup

extra virgin olive oil

2

shallots, minced

3

cloves of garlic, minced

2

teaspoons

sugar

1/8

teaspoon

peperoncino flakes

Kosher salt

white pepper

1/2

cup

basil, cut in chiffonade

1/2

pound

spaghettini

grated Parmigiano for service
Directions
Peel, seed and chop 5 pounds of tomatoes, reserving liquid. Set aside.

Pour olive oil in 6 quart non-reactive pan and heat over medium low.

Add shallots, garlic, sugar peperoncino flakes and a pinch of salt.

Saute gently until translucent, about 3 to 4 minutes.

Do not let the garlic or shallots brown or they will develop a distinctly unpleasant bitter taste.

Add tomatoes and their liquid along with 1½ teaspoons kosher salt and 1 teaspoon white pepper.

Increase heat to medium high and cook, stirring occasionally to prevent scorching until sauce reaches the desired consistency.

This may take up to thirty minutes depending on the amount of juice present.

The finished sauce will have a slightly chunky consistency.

If you prefer a smooth sauce, puree it in the food processor or blender, or my favorite, pass it through the medium disk of a food mill.

Bring 6 quarts water to a boil.

Salt the water generously, add pasta, and cook until al dente.

Drain pasta and turn it into a warmed pasta bowl.

Toss pasta with some of the sauce, starting with about 1 1/2 cups, adding more as desired.

Garnish with cut tomatoes and basil.

Serve and pass Parmigiano.
Recipe Notes
As you seed each tomato, hold it over a strainer suspended over a bowl to catch all the juice. Many orange and golden tomatoes are exceptionally juicy, so do not skip this step. I call for up to 1/4 teaspoon peperoncino flakes. That does not sound like a lot, but coupled with the warmth of the whit pepper, it can pack quite a punch. If you prefer a mild sauce, use just 1/8 teaspoon peperoncino flakes or skip the peperoncino altogether. Store sauce in refrigerator 1 week or freeze up to 3 months.