Strawberry Lemon Granita
Strawberry Lemon Granita: This 3 ingredient Strawberry Lemon Granita will put a smile on your face on a hot summer day! My mamma Angela always used to finish our family meals with fruit. When Strawberries were in season she would add lemon juice and sugar to them for a special treat. The lemon zest gives this granita a little bit of texture and brings out the flavor of the strawberries!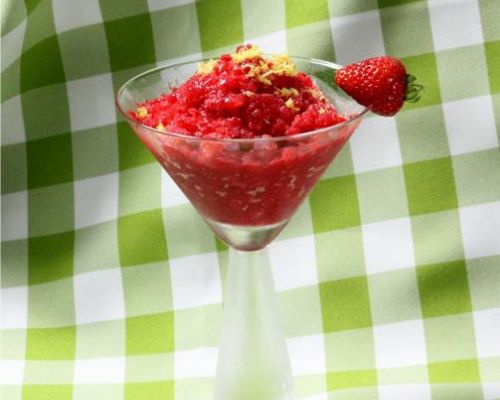 Ingredients
For 8 Person(s)
For the Granita:
2

pounds

Lbs Fresh Strawberries

2

lemons, zest and juice

1/4

cup

Cup Sugar ( you use more or less sugar depending on your preferences)
Directions
Add the strawberries, sugar, lemon juice and zest to a blender or a food processor and process until liquified.

Pour the mixture into a shallow baking dish and place in the freezer for 4-5 hours. Rake with a fork every hour or so not letting mixture totally freeze solid. Granita will resemble icy flakes when done.