Strozzapreti Pasta Bolognese
This is to me a 'comfort food' for Italy. Very hardy and delicious!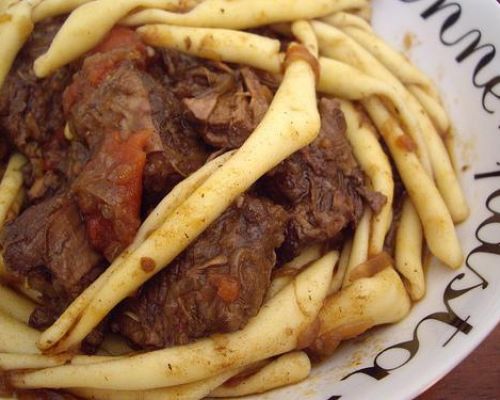 Ingredients
For 4 Person(s)
For the Pasta:
2

tablespoons

butter, divided

2

pound

chuck roast, cut into 2-inch cubes

1

onion, halved and thinly sliced

1

cup

fruity red wine (ex. Chianti)

10

ounces

peeled tomatoes with juice

1/3

cup

brewed espresso

1

pound

Strozzapreti pasta
Directions
Melt 1 tbs butter in large oven-proof pot over medium high heat. Sprinkle beef with salt and pepper. Working in batches, cook beef until browned, about 4 minutes per batch.

Transfer beef to large bowl. Reduce heat to medium. Add remaining tablespoon butter to the pot and melt.

Add onions and cook until soft, stirring frequently, about 5 minutes.

Return beef and any accumulated juices to pot. Add wine, tomatoes with juice, and espresso.

Bring to a boil, cover, and transfer to oven.

Braise beef until tender, about 2 hours. Using two forks, break beef apart into more manageable chunks.

Season to taste with salt and pepper.

Cook pasta in large pot of boiling salted water until 'al dente', stirring occasionally.

Stir into beef mixture and serve.
Reviews
Thursday, 14 December 2017
I found this recipe and thought it would be good to share it. It was hard to find.
- plserio