Stuffed Artichokes in Sauce - Carciofi Ripieni con Sugo
Stuffed Artichokes with Spaghetti... a healthy and complete meal.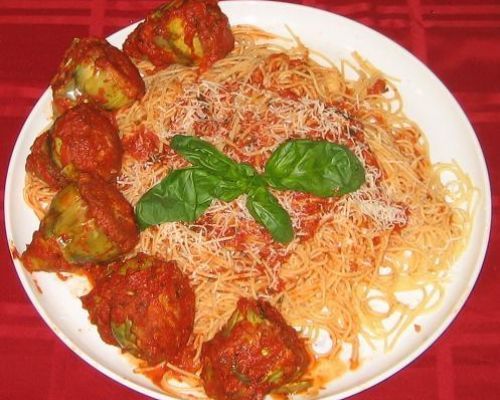 Ingredients
For 4 Person(s)
For the Stuffing:
6

medium sized fresh artichokes

1/2

cup

olive oil

3

large eggs

1

cup

grated Parmigiano Cheese

1/2

cup

plain bread crumbs

2

cloves garlic, finely minced

fresh parsley

salt & pepper
For the Sauce:
28

ounces

crushed tomatoes

1/4

cup

extra virgin olive oil

1

medium onion, finely chopped

2

cloves garlic, finely minced

5

basil leaves

salt & pepper

1

pound

spaghetti

1/2

cup

vegetable oil for frying
Directions
Sauce Preparation:

In a saucepan put a 1/4 of EV olive oil and let it heat up.

Add chopped onions and let saute` for 1 min.

Add chopped garlic and cook for an additional 2 mins.

Add crushed tomatoes, parsley and basil.

Cook sauce for 20 mins.

Stuffing Preparation:

In a mixing bowl, put 1 cup of grated Parmigiano and 1/2 cup of plain bread crumbs. Mix well.

Add 2 cloves of finely chopped garlic and fresh cut parsley. Mix well.

Salt and pepper to taste.

Add 3 eggs and mix until all the ingredients are well amalgamated into a soft consistency.

Cook the Artichokes:

Remove artichokes from water and squeeze any excess water from them. Gently open the centers so there is enough room to place 1/3 cup of the stuffing into each artichoke.

In a frying pan, heat ½ cup of vegetable oil. When the oild gets hot place each artichoke face down (stuffing hits the oil first) and fry for approx 1 minute or until the tops are browned. This will solidify the stuffing so it does not separate once placed into the sauce.

Place artichokes in sauce and cook for 30 minutes.

While artichokes are simmering, cook spaghetti.

In a platter, place spaghetti in center of dish and spoon sauce over. Place artichokes around the pasta. Garnish with basil.
Categories:
Nonna Anna Buonsante
,
First Course Recipes
,
Entree Recipes
,
Puglia Recipes
,
Easy Recipes
,
All Recipes
,
Easter Recipes
,
Valentine's Day Recipes
,
Super Bowl Recipes
,
Artichoke Recipes
,
Mother's Day Recipes
,
Father's Day Recipes
,
Memorial Day Recipes
,
Vegetarian Entree Recipes
,
Mediterranean Diet Entree Recipes
Reviews
Wednesday, 17 April 2019
What do you do after mixing in the eggs?
- snuggie22
Tuesday, 12 December 2017
This recipe brings me back to sitting around nonna and nonnos table when I was a boy... great dish.....
See Full Review >>
- nicolaarts
Tuesday, 12 December 2017
Buonissimo piatto, sano e leggero! Grazie Nonna Anna! Cristina Baccin
- cbaccin