Testa di Turco per Rossella
Turkish Head: This is a very simple and unique recipe for an original Italian (actually Sicilian) treat...like you!!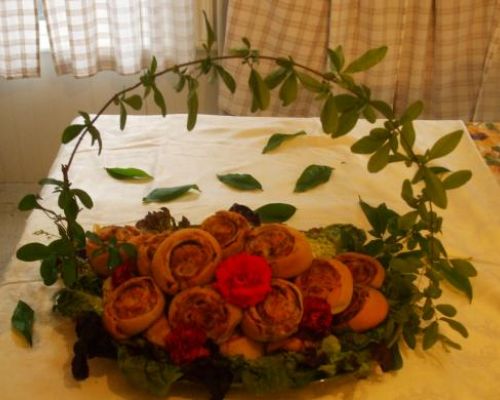 Ingredients
For 30 Person(s)
Recipe
the dough

6

cups of unbleached all purpose flour

1

cup olive oil

1

0.5 packets of Rapid Rise yeast

1

tablespoon salt

1

teaspoon sugar

2

cups warm water

the filling

3

pounds of whole milk ricotta

6

links of Italian sweet sausage, squeeze the meat out of the skin (you can use hot if that is your preference).

3

cups of grated parmigiano cheese (not shredded)

and pepper, add to your taste.

mybanner}
The Best Christmas Gift Ever!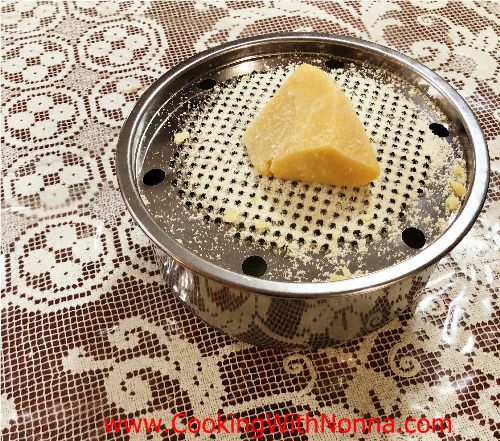 Directions
Mix the flour and ¾ of a cup of oil and salt into a bowl or food processor.
In another bowl add 2 cups of warm water, yeast and sugar. When a light foam forms on the top, add the flour and mix until you have a ball of dough.
Knead the dough for approximately 5 minutes.
Divide the dough in 3 parts and rub the remaining oil over each dough ball. (the oil prevents the outer layer of the dough from crusting)
Let the dough rise in individual balls until it is double in size, usually about an hour.
In a large bowl mix the ricotta, sausage, 1 cup of parmigiano and salt and pepper (to your taste)
Preheat the oven to 350 degrees
When the dough is ready, take one piece and roll it out into a circle until thin (like a pizza).
Spread the ricotta and sausage mix.
Starting from the side closest to you, begin to roll the dough and mixure.
Continue rolling until you have a long roll.
From the left or right side, cut slices 3" wide.
In a plate, put the rest of the parmigiano.
Turn the open side of the roll slice facedown on the parmigiano and press gently.
Turn the slice upside down and press gently again so both sides are covered with parmigiano.
Place the slices, parmigiano side up, onto a bake pan and bake for about 20 minutes or until the top is a nice golden brown color.
Remove from the oven, let them cool down to a warm temperature and serve plain or with a side of marinara sauce.




This is a GREAT addition to any cookout, pizza party or any event...including Rossella's birthday!! Buon Appetito!!


none