Broccoli and Shells Pasta
Broccoli and Shells pasta can be served hot or cold.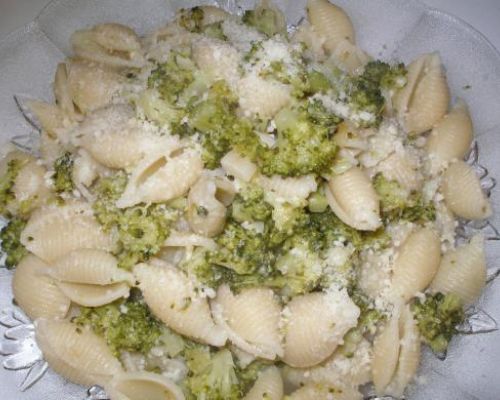 Ingredients
For 4 Person(s)
For the Pasta:
1

large head or 2 -3 small heads of Broccoli stalks

1

pound

medium shells pasta

1

tablespoon

extra virgin olive oil

1

whole garlic bulb /take the outer skin off and chop the whole bulb and put aside.

14 1/2

ounces

chicken broth

2

tablespoons

butter

1/2

cup

grated cheese

salt & pepper
Directions
Clean the broccoli, wash under cool water.

Trim/peel the stalk and cut the florets and stalks into small pieces.

Put the cut florets and stalks into a pot of water and bring to boil. Make sure they are soft.

Drain the broccoli and put aside.

In the mean time you should get a pot and fill it with water until it boils...then add the shells

While the shells are cooking put some oil into the frying pan.

When the oil gets hot put in the chopped garlic into the frying pan. When it starts to get a color to it add the cooked broccoli pieces

Then add the 2 tablespoons of butter and add salt & pepper to taste and stir.

Add the can of chicken broth and let simmer for about 10 mins.

When the shells are cooked, drain them and place them into the frying pan where the broccoli and chicken broth is.

Keep stirring the pasta and broccoli while in the frying pan for a few minutes.

Sprinkle the grated cheese on top of the pasta and broccoli and stir. Keep stirring for a couple of minutes.

Place some pasta and broccoli in each plate & serve.
Reviews
Sunday, 29 March 2020
Just made this the other day! Love it!
- Maryrose2112
Thursday, 14 December 2017
This recipe give you a bit of the healthy (broccoli) while enjoying the pasta taste. It would satisf...
See Full Review >>
- iceberg
Thursday, 14 December 2017
This is almost the same way I make pasta & broccoli. There is a slight difference. But looks goo...
See Full Review >>
- franrl
Thursday, 14 December 2017
My daughter LOVES. I make it once a week!
- cml1966
Friday, 04 August 2017
Very nice recipe!
- vitorago
Thursday, 08 September 2016
loved this recipe!
- Debs