About Nonna Mimi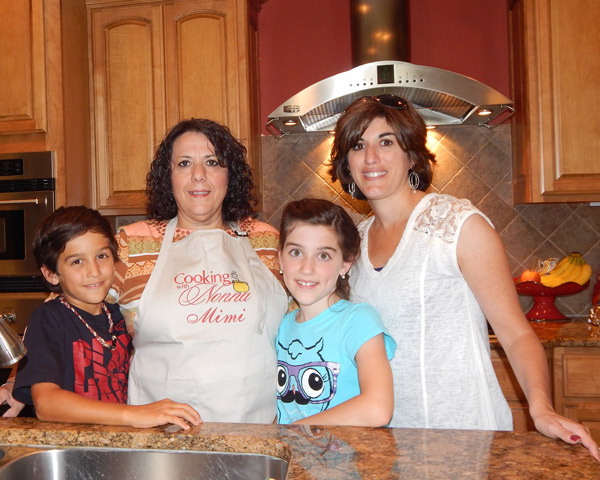 I was born Domenica (Mimi) Augello in Castrofillippo, Sicily. My parents names are Rosa and Carmelo. I am the fourth born to my parents. I have three older brothers (Vincenzo, Giuseppe and Salvatore). We were all named after our Nonna or Nonno. That is the tradition in Italy.

My parents wanted to come to America for a better life. My Papa's older brother Salvatore, who already lived in America sponsored us.

He rented an apartment for us and made sure my Papa would have a job when we got here. We come over to American on Feb. 5, 1955 on a ship called the Andrea Doria. When we arrived to America, the first thing I remember seeing was the Statue of Liberty. That still remain a very special building to me.

We lived in Manhattan on 48th Street between 1 & 2nd Ave for five years. My Papa worked in construction and my Mama, with help of my brothers, had a local fruit store for a couple of years. My parents saved and bought their first house in Astoria, NY. While living in Astoria my Papa had six fig trees. When it started to get cold my Papa would cover his fig trees an put them underground. He also had a peach tree, grape vines, tomato plants, different kinds of vegetables, basil, etc. Of course he also made his own wine. While my Mama would make her own sauce and can tomatoes.

I went to school in Astoria and after graduation I got a job in New York City. We lived on 14th Street & 31st Ave in Astoria. There was an Italian club on the corner of these streets. Every year they would celebrate the feast of Saint Antonio de Bati. They had all kinds of Italian foods, Italian music and on Sunday they would have a Mass at church where the people from Castrofillippo who were living in Astoria, Brooklyn and the Bronx would attend. They would also have special breads made in the shape of arms, legs,etc. The bread would be blessed by the priest and then everyone would eat it.

In 1971 at this feast is where I met my future husband Antonio Acquista. He happens to be from the same town that I was born in. We got married on Oct. 1, 1972 and lived in the building that my parents owned. Our daughter (Angela Diane) was born in July 1973. She was also named after her Nonna.

Advertisement


We worked and saved our money and in 1979 we bought our first house in West Hempstead, NY, where we had our own fig trees, fruits and vegetable plants in our back yard. My parents didn't want to live in Astoria if we weren't there. So we found them a house 5 blocks from our new home. If fact, we both moved out the same day. That wasn't fun. Having my parents close to us was very helpful. My Papa would take and pick my daughter from school since it was down the block from him. Angela was very close to her Nonna and Nonno. She called them Mama & Papa.

My daughter grew up and went away to college in Washington, DC. She graduated from GW and has her masters in Public Health. She now works as a Health Program Manger.

In the meantime we sold our house in LI and moved to NJ in 2000. In 2002 my parents again followed us and now live down the block from us in NJ. My Papa and my husband still continued to make wine and planted fig trees, tomato plants, etc.

My daughter in now married to Brian and they have beautiful twins (Natalie & Andrew) who are 8 yrs old. They are the love of my life. They call us Mama Mimi & Papa Tony. We also taught them some Italian. While my Mama Rosa taught them an Italian prayer. We lost my Mama in June 2010 and the grandkids came to see her at the funeral home and they prayed the Italian prayer. They were very close to Mama Rosa and Papa Melo.

My Papa is still with us and he is 97 years old. He enjoys reading Italian books on Padre Pio. Every year we take him to the Padre Pio church in Vine Land, NJ. They have a Mass and an outdoor feast with Italian music and food.

One of these days, when my husband retires, we plan to move close to my daughter and her family.

My husband, my daughter and I love to cook. Whenever we have people over for dinner it is like a holiday.
Nonna Mimi Acquista