Mama Rosa's Lasagna
This recipe started with my Mama Rosa and now I make it too. Since it's Mother's day on Sunday I made her lasagna. A way to keep her memory alive. She is a Mother to 3 Sons and 1 Daughter... that's me... and also a Nonna to 6 grandchildren and 7 greatgrandchildren. Miss you... love & kisses... Mama Rosa.
Also known as Lasagne.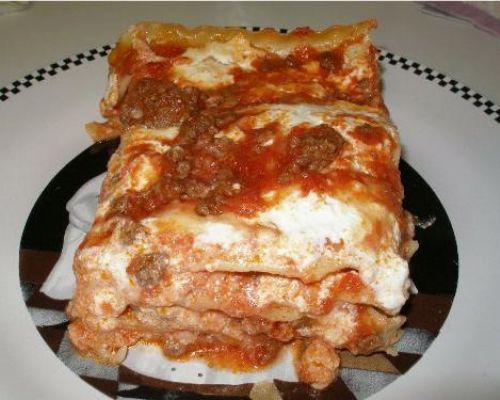 Ingredients
For 6 Person(s)
Recipe
35

ounces

peeled tomatoes

1

tablespoon

chopped onion

4

tablespoons

extra virgin olive oil

1

tablespoon

sugar

salt & pepper

1

pound

lasagna pasta

1

pound

93% ground beef

2

pounds

ricotta

1

pound

shredded/grated mozzarella cheese

1

cup

grated parmesan or pecorino romano cheese
Directions
Get your Lasagne Pasta

HERE

For the Sauce:

Empty container of tomatoes & sauce into a food mill or blender and puree... set aside

In a pot, add 3-4 tablespoons of EVOO heat and then add the chopped onions until translucent then add the puree sauce.

Add 1 teapoon of sugar and season with salt & peper. Cook for about 15 mins.

For the Meat:

In a frying pan cook the chop meat. Break up the chop meat & cook until brown and drain.

Add the cooked chop meat to the sauce and cook for another 10 mins.

For the Pasta:

Put water in a 5 Qt pot and add 1 tbsp salt to it and bring water to a rapid boil.

Add the pasta 2 pieces at a time and stir gently until all the pasta is in the pot.

Cook uncovered and stirring gently occasionally for about 10 minutes. Drain well.

Separated cooked lasagna and lay each one on wax paper to keep from sticking together.

In the 13 X 9 inch baking pan spread some meat sauce on bottom of pan.

Place about 4-5 pcs of the cooked pasta lenghtwise over the sauce, overlapping edges.

Place a little bit of sauce on top of the pasta, then spoon some ricotta all over the pasta and then sprinkle the mozzarella over it.

Cover with some meat sauce and then sprinke the grated cheese.

Keep on repeating the pasta, sauce, ricotta, mozzarella, meat sauce and grated cheese until you reach the top of the baking pan.

Place tray of Lasagna into the oven that has been pre heated at 375.

Cook for about 30 minutes. Remove foil and cook for another 5 minutes or so.

After pan is taken out of the oven, put foil back on the pan and let it stand for about 5-10 mins before serving.
Recipe Notes
Pre heat at 375.... Cook for about for about 30 mins... remove foil and bake for another 5 mins....recover the pan and let pan stand for about 5 mins before serving. Enjoy!! 5/6/11 Happy Mother's day to all<3 6-8 persons
Categories:
First Course Recipes
,
Entree Recipes
,
Meat Recipes
,
Italian Pasta Recipes
,
Intermediate Recipes
,
All Recipes
,
Christmas Recipes
,
Thanksgiving Recipes
,
Easter Recipes
,
Valentine's Day Recipes
,
Lasagna Recipes
,
Mother's Day Recipes
,
Father's Day Recipes
,
Baked Pasta Recipes
,
Valentine's Day  Recipes
,
Easter Dinner Recipes
,
Christmas Dinner Recipes
,
Thanksgiving First Course Recipes
,
Christmas First Course Recipes
,
Easter First Course Recipes
,
Nonna Mimi Acquista
,
Sunday Dinner Recipes
Reviews
Saturday, 02 June 2018
The recipe instructions begin by saying "Empty container of tomatoes & sauce into a food mi...
See Full Review >>
- Lynnda
Thursday, 14 December 2017
Mama Rosa\'s Lasagna was a recipe handed down by my mother who is no longer with us. It\'s so good I...
See Full Review >>
- Mimi
Thursday, 14 December 2017
This sauce is much like my sicilian sauce, the only thing I add more, is a pinch of baking soda, onc...
See Full Review >>
- Mariadavola1
Thursday, 14 December 2017
HAVE NOT TRIED BY A RECIPE BUT THIS IS EXACTLY HOW MINE LOOKS NOW FROM MI NONNA DI BISCEGLIE, BARI :...
See Full Review >>
- MGCVSJ NONNA
Thursday, 14 December 2017
This is the recipe from my Nunun(grandma) and my mom that I have making for more than fifty years. M...
See Full Review >>
- txsandy
Thursday, 14 December 2017
This is my mothers & grandmothers recipe from Avellino. Except we add garlic to the sauce and f...
See Full Review >>
- jhunter
Thursday, 08 September 2016
i am italian and have been cooking lasagna for years. today i forgot how many eggs to put into the r...
See Full Review >>
- walter1