Capellini with Prosciutto and Peas in Pink Sauce
Capellini with Prosciutto and Peas in Pink Sauce.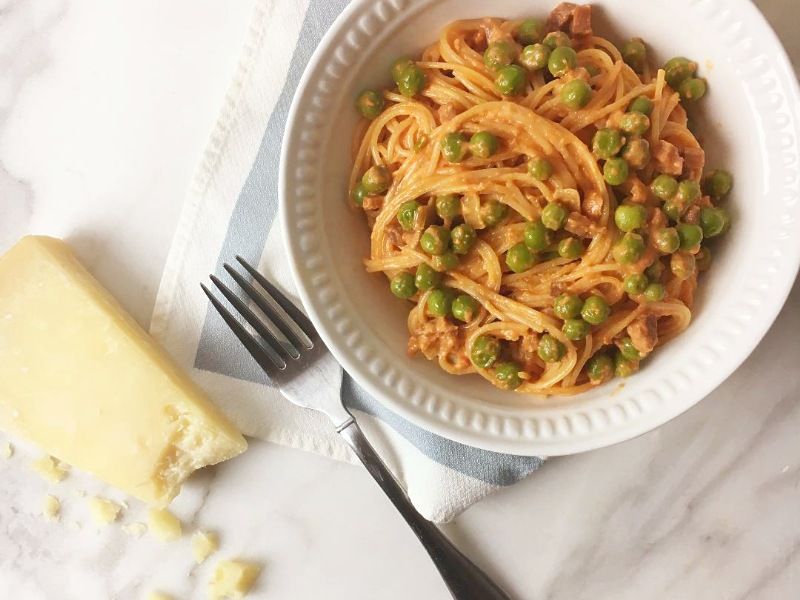 Ingredients
For 4 Person(s)
For the Sauce:
28

ounces

peeled tomatoes

3

tablespoons

extra virgin olive oil

2

shallots, cut into a 1/4 inch dice

4

ounces

prosciutto, cubed

2

cups

frozen peas, thawed

1

cup

heavy cream

salt and fresh black pepper as desired

1

pound

capellini pasta
Directions
Add the canned peeled tomatoes to a blender and puree until smooth. Set aside.

Put a large saute pan over a medium flame and heat the oil. Add the shallots to the pan and saute until soft, about 3-5 minutes. Add in the prosciutto and saute until slightly crisp, about 5 minutes. Add the pureed tomatoes and peas to the pan and cook for 5 minutes. Stir in the heavy cream. Taste for seasoning and season with salt and pepper as desired. Cook for an additional 2-3 minutes.

Bring a large pot of generously salted water to a boil. Drop in the capellini and cook until very al dente. Capellini tend to cook quickly so keep an eye on them!

Drain the pasta and add to the saute pan. Toss the pasta in the sauce for 1-2 minutes over medium heat. Serve in warm bowls.