Chickpeas and Artichokes Salad - Ceci e Carciofi Marinati
Marinated Chickpeas and Artichokes Salad.... delicious and fresh.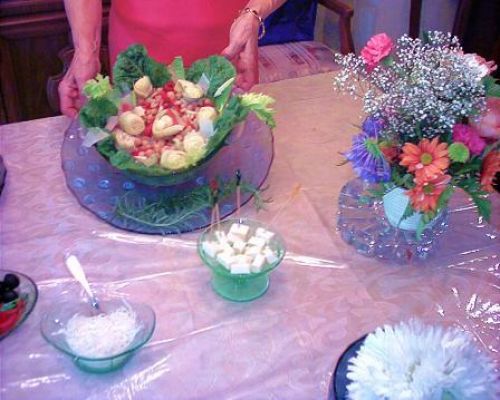 Ingredients
For 6 Person(s)
For the Salad:
2

cups

canned chickpeas, rinsed and drained

2

cups

canned artichokes hearths

4

scallions, all the white and some green, roughly chopped

1

red pepper, diced

1

fennel bulb - cut horizontally and thinly sliced

1

teaspoons

oregano (fresh or dried)

2

garlic cloves, finely minced

1/2

cup

extra virgin olive oil

1/4

cup

wine vinegar

1/2

tablespoon

salt

ground pepper

parsley to garnish

curls of provolone cheese to garnish

diced provolone cheese for serving
Directions
Drain the chickpeas and rinse well in cold water. Use the same procedure for the artichoke hearts and cut in halves.

Combine in a salad bowl the chickpeas, artichokes, scallions, red pepper and fennel.

In a small bowl mix Ev olive oil, vinegar, salt and pepper as desired, oregano and garlic. Mix well and pour over the vegetables.

Toss all ingredients well and place the bowl in the refrigerator for 2-3 hours. Preferably overnight to marinate.

To serve, mix well again and garnish with curls of provolone cheese and parsley springs.

Serve with crostini and diced provolone cheese.