Christmas Cranberry Pistachio Biscotti
Crunchy, not too sweet, cranberry pistachio yumminess, great anytime!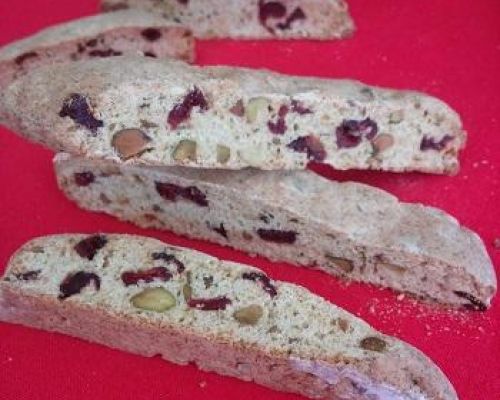 Ingredients
For 15 Serving(s)
For the Biscotti:
1

cup

vanilla sugar*

2

large eggs

1

teaspoon

Madagascar vanilla extract

1

teaspoon

baking powder

1/4

teaspoon

salt

1 3/4

cups

all-purpose flour

1/2

cup

shelled, roasted, salted pistachios, coarsely chopped

1/2

cup

dried cranberries
Directions
Preheat oven to 350 degrees.

In a bowl add vanilla sugar, eggs and vanilla extract and beat on high for 5 minutes.

In a separate bowl, mix together the flour, baking powder and salt.

Add to the egg mixture and mix with a spatula until combined.

Fold in the chopped pistachios and cranberries.

The dough is super sticky so flour the board and your hands to get the dough on to a board.

Hand mix and form a flat long rectangle about 12" long and 5" wide.

Line a baking sheet with parchment paper.

Take a sharp knife and run it under the dough to loosen from the board and get it on to the lined baking sheet.

Bake for 20 minutes on 350 degrees. Let it cool for ten minutes, then cut diagonally and return the biscotti to the oven and cook for ten more minutes on each side. Total cooking time will be 40 minutes.
Recipe Notes
*To make homemade Vanilla Sugar: Split open 1 Vanilla bean and scrap out the seeds with the back of a knife and add to the sugar. Massage the sugar to incorporate the vanilla. Remove the bean and store for use in other recipes.