Cut Spaghetti and Potatoes Pasta e Patate
Cut Spaghetti and Potatoes in a light tomato sauce. Or better knows as Pasta e Patate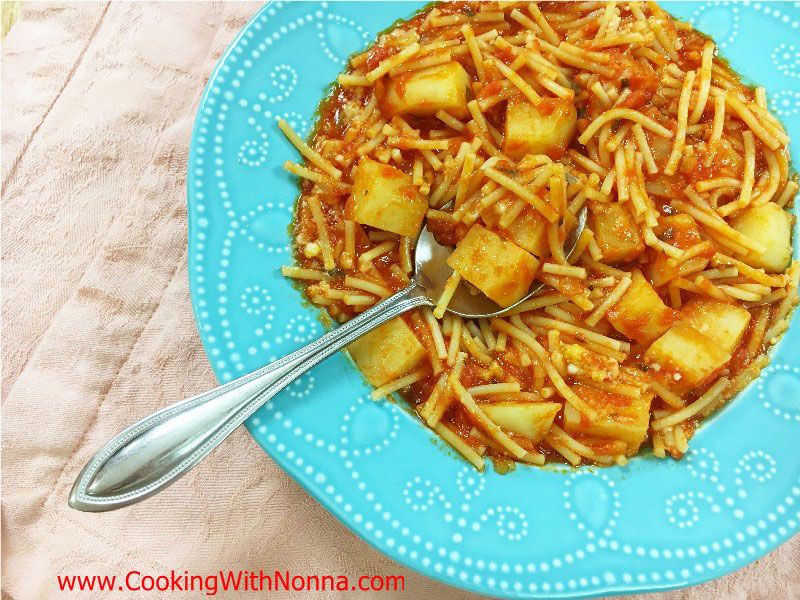 Ingredients
For 6 Person(s)
For the Pasta:
5

tablespoons

extra virgin olive oil

1

medium onion, cut into a 1/4 inch dice

1 1/2

pounds

Idaho potatoes, cut into 1 1/2 inch cubes

28

ounces

crushed tomatoes

2

tablespoons

fresh parsley, minced

3

cups

boiling water

1

pound

dried spaghetti, broken by hand into 2 inch pieces

grated pecorino cheese
Directions
Put a small saucepan over a high flame and bring the 3 cups of water to a boil.

Put a large pot over a medium flame and add the oil and onion.

Cook until the onion become translucent, about 5-7 minutes and add the potatoes. Let the potatoes saute` for about 3 minutes.

Add the parsley and the crushed tomatoes and let everything cook for about 10 minutes.

Add the boiling water and lower the flame to low. Let everything cook until the potatoes are fork tender, about 15-20 minutes.

Bring a large pot of generously salted water to a boil and drop in the broken spaghetti. Cook until al dente and drain.

Add the pasta to the sauce and the potatoes. Mix over a low flame for 1-2 minutes just until the flavors have amalgamated. Serve in warm bowls with a generous sprinkle of Pecorino Romani cheese and black pepper, if desired.
Reviews
Friday, 22 January 2021
Thank you for this recipe! The video is charming with your sweet Nonna and this dish is really fun t...
See Full Review >>
- roddyF
Sunday, 30 September 2018
find this recipes tasteless. No favor to it at all. The recipe call for a pound of cut spaghetti is...
See Full Review >>
- kcaradonna