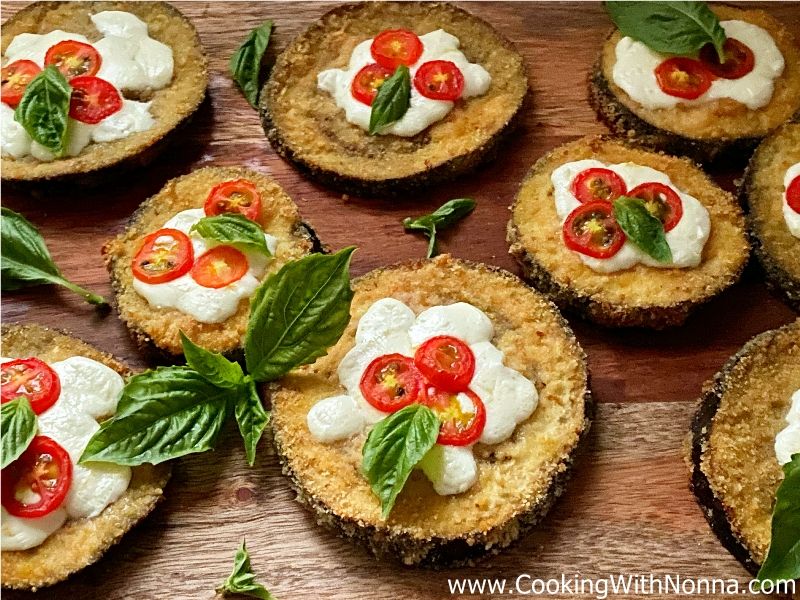 Ingredients
For 6 Person(s)
For the Pizzette:
1

eggplant, cut into 1/2 inch thick slices

1/2

cup

plain breadcrumbs

salt and black pepper as desired

1/2

cup

grated Parmigiano Reggiano cheese

1

large egg, beaten

10

cherry tomatoes, sliced - *you can also use a few spoonfuls of tomato passata or purée

1/2

cup

fresh mozzarella, cut into small cubes

extra virgin olive oil for drizzling

a handful of fresh basil leaves
Directions
Products Featured in this Recipe:

HERE!

Preheat your oven to 350 degrees. Line a baking sheet with parchment paper. Set aside.

In a shallow dish combine the breadcrumbs and grated cheese. Season the mixture with salt and black pepper as desired.

Dip each eggplant slice into the egg wash and then coat with the breadcrumb mixture. Place each eggplant slice on the parchment lined baking sheet.

Bake for 20 minutes.

Add about 3 cubes of Mozzarella to each eggplant slice and top with 3 tomato slices or 1 teaspoon tomato purée.

Drizzle each eggplant slice with extra Virgin Olive oil and another sprinkle of salt. Bake until the mozzarella has melted. About 5 minutes.

Serve warm or at room temperature.