Focaccia with Sausage and Broccoli Rabe
Focaccia with Sausage and Broccoli Rabe... so much flavor all in one dish.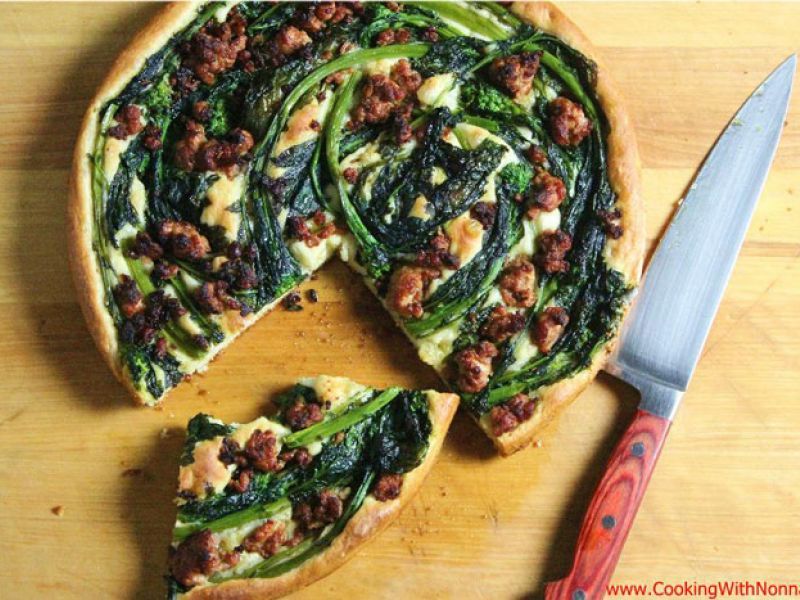 Ingredients
For 4 Person(s)
For the Dough:
2

tablespoons

extra virgin olive oil plus extra for brushing the dough and the roll

1

packet active dry yeast

3/4

cup

lukewarm water

2

cups

00 or all purpose flour

1

teaspoon

salt
For the Focaccia:
1/2

pound

broccoli rabe sauteed

1/2

pound

Italian sweet sausage

1

teaspoon

salt

1/4

cup

extra virgin olive oil, plus 2 tablespoons to drizzle on the focaccia
Directions
To make the Dough:

In the bowl of a stand mixer fitted with the dough hook attachment combine the oil, yeast and water. Let stand until the yeast is dissolved, about 5-8 minutes.

In another mixing bowl whisk together the flour and salt. With the mixer running on low speed slowly add in the flour. Mix until a smooth, supple dough forms, about 8-10 minutes.

Transfer the dough to a bowl brushed with olive oil. Brush the ball of dough with more oil Cover with plastic wrap and set aside to rise for 1 hour or until doubled in volume. Punch down the dough.

Make the Focaccia:

Preheat the oven to 450 degrees.

In a saute` pan, add two tablespoons of EV olive oil, remove the sausage from the casing and brake it into the hot pan.

Cook the sausage for about 10 minutes until it browns. Remove from the pan and set aside to cool. Drain any excess oil

Add 1/4 cup of the oil to a 12 inch round pan and spread it evenly, making sure you coat the bottom and sides of the pan.

Spread the dough to the edges of the pan with your fingers, starting from the center and working your way out.

Cover with plastic paper and let it rise for 60 minutes in a warm place of the house.

Spread over the focaccia the broccoli rabe and the sausage.. Drizzle e tablespoons of extra virgin olive oil over the entire focaccia. Sprinkle salt as desired.

Cover with plastic wrap and set aside to rise for 15 more minutes.

Bake for 20 minutes at the lowest level in the oven. Move to the ¾ level of the oven and bake for 6-7 more minutes or until you have the desired color on top of the focaccia but careful not to burn the broccoli rabe.
Recipe Notes
Nonna's Tip: If your kitchen is a little cooler than normal, you can let the focaccia rise in the oven at 100 degrees.

Categories:
Appetizer Recipes
,
Bread and Focaccia Recipes
,
Baking with Rossella
,
Easy Recipes
,
All Recipes
,
Christmas Recipes
,
Thanksgiving Recipes
,
Easter Recipes
,
Focaccia Recipes
,
Mother's Day Recipes
,
Father's Day Recipes
,
Memorial Day Recipes
,
4th July Recipes
,
Thanksgiving Appetizers and Sides Recipes
,
Christmas Appetizer Recipes
,
Easter Appetizer and Side Recipes