Lentils with Farro
Lentil with Farro... an excellent comfort food for the winter and all seasons.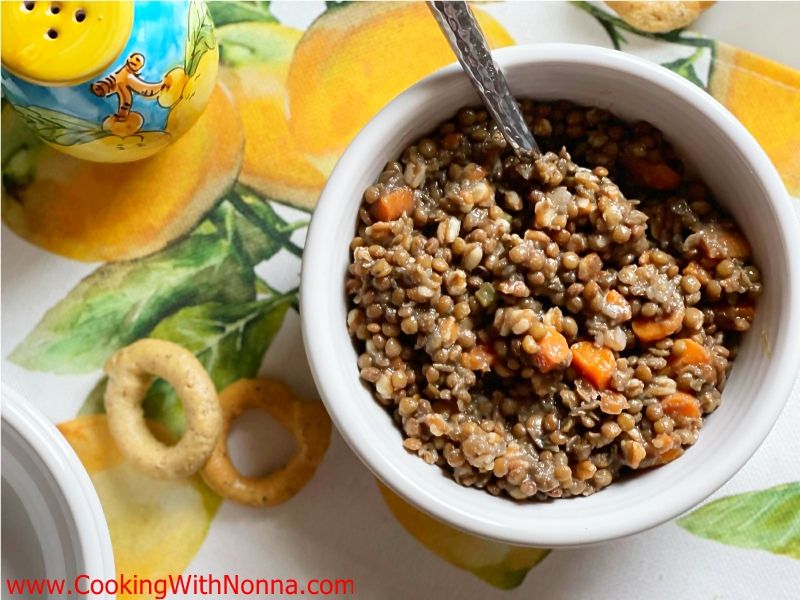 Ingredients
For 6 Person(s)
For the Farro:
1

pound

Farro

1

pound

dry lentils

4

cloves garlic, crushed

1

medium red onion, sliced

2

stalks of celery, sliced

4

bay Leaves

2

carrots, cubed

hot pepper

salt

extra virgin olive oil
Directions
Get the ingredients needed for this recipe

HERE!

Bring a pot of salted water to boil and add the Farro. Cook it for about 30 mins. Drain the water and set aside.

Wash the lentils and put them in a deep pot.

Cover the lentils with water with 1 1/2" of water above the lentils.

Add all the other ingredients except the EV Olive Oil.

Cover the pot and let all the content come to a boil. Let it boil for about 10 mins.

Uncover the pot and let it continue to cook. On the side boil some hot water and add it to the pot if the lentils become too dry.

Cook for another 10 mins. Taste the lentils and stop cooking them when they reach your desired tenderness.

Add the Farro to the pot and bring to a boil.

Serve with a drizzle of good EV Olive Oil.
Categories:
Nonna Romana Sciddurlo
,
First Course Recipes
,
Puglia Recipes
,
Easy Recipes
,
All Recipes
,
Soup Recipes
,
Lentils Recipes
,
Mother's Day Recipes
,
Father's Day Recipes
,
Vegetarian First Course Recipes
,
Vegan First Course Recipes
,
Mediterranean Diet First Course Recipes
,
Farro Recipes
,
Cucina Povera della Nonna
Reviews
Saturday, 25 May 2019
One of my all time favorites! Sure is a comfort food!
- Maryrose2112