Linguine with Mussels
Mussels over linguine with a light tomato sauce... perfect at any time of the year!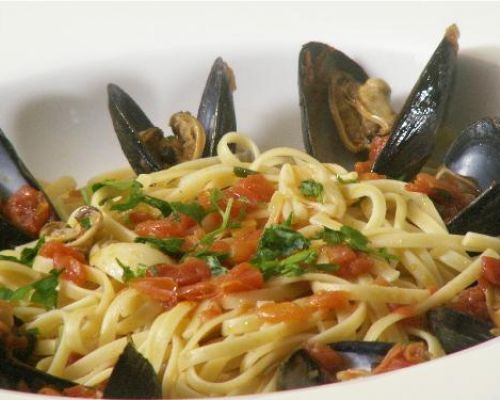 Ingredients
For 4 Person(s)
For the Linguine:
2

pounds

mussels

2

pounds

fresh tomatoes

6

cloves garlic

1/2

cup

white wine

fresh parsley

black pepper

extra virgin olive oil

salt
Directions
Wash the mussels under cold water and set aside.

In a large pan, add 4 Tbs of EV olive oil and the garlic cloves crushed or minced as you prefer.

Saute` the garlic until lightly golden and add the tomatoes.

Add the wine. Salt and hot pepper as desired.

Cook the tomatoes for about 10 mins. Add the mussels and half of the parsley.

Cook the mussels for about 10 mins. Stir them occasionally. At then end add the remainder of the parsley.

Any mussels that have not opened, discard them as they are most likely bad. Do not even try to open them.

Cook the linguine al dente and pour in the pan with the mussels.

Toss for 2 minutes and serve.
Recipe Notes
For safety, before I put the mussels in the pan, I open each one with a knife to be sure that it is alive and good. You can easily tell by the fresh sea perfume. Any bad ones you discard them. If you do so, be sure to recover any water that comes out of the mussels as it gives so much flavor to the sauce.
Categories:
Nonna Romana Sciddurlo
,
First Course Recipes
,
Fish Recipes
,
Puglia Recipes
,
Easy Recipes
,
All Recipes
,
Christmas Recipes
,
Easter Recipes
,
Valentine's Day Recipes
,
Mussels Recipes
,
Mother's Day Recipes
,
Father's Day Recipes
,
Memorial Day Recipes
,
4th July Recipes
,
Labor Day Recipes
,
Christmas Fish Recipes
,
Italian Pasta Sauces
,
Easy Pasta Recipes
,
Valentine's Day  Recipes
,
Easter Dinner Recipes
,
Christmas Dinner Recipes
,
Thanksgiving First Course Recipes
,
Christmas First Course Recipes
,
Easter First Course Recipes
,
Seafood Pasta Recipes