Lucy's Arancini
Lucy's traditional Arancini Siciliani.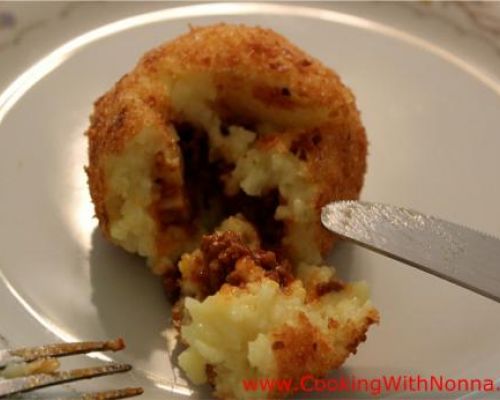 Ingredients
For 1 Dozen(s)
For the Rice Balls:
1

cup

Arborio rice

2

cups

cater

a few strands of saffron (or a small envelope)

1

cube chicken buillion

4

ounces

butter

1/4

cup

grated Parmigiano

1

egg for the egg wash

plain bread crumbs

oil for frying
For the Filling:
1

pound

ground beef

1/2

cup

peas

28

ounces

crushed tomatoes

1

medium onion

4

tablespoons

extra virgin olive oil

1/2

pound

mozzarella

salt and pepper
Directions
Get the Arborio Rice

HERE

Make the Rice:

In a large pot, add the water, the buillion and the saffron. Let the water boil and add the rice.

Stir the rice continuously until it is cooked. You do not want it too al dente but not too soft either. If during the cooking process the rices gets dry add a little hot water.

Let the rice get lukewarm and add the butter and parmigiano. Fold them well into the rice and set aside to completely cool off.

Make the Filling:

In a saute` pan, put the meat and brown it. Drain the fat and put the meat aside.

In a saute` pan, add the EV olive oil and the chopped onion. Saute` the onion until it gets translucent and add the tomatoes.

Cook the tomatoes for about 10 minutes at medium flame and add the meat.

Add salt & pepper as desired.

Cook the meat for about 10 minutes and add the peas. Cook for an additional 5 minutes. Set aside to cool off.

In the meantime chop the mozzarella into small cubes. Add it to the filling once the filling has completely cooled.

Make the Arancini:

In the palm of your hand, put a lump of rice of about the size of a baseball.

With your finger make a hole into the rice and add some of the filling. Close the hole with the rice and roll it into a ball.

Dip the rice ball into the egg wash and then roll it into the bread crumbs.

Deep fry the rice balls until they turn golden.
Recipe Notes
This is how Lucy rolls her Rice Balls!

none
Categories:
Appetizer Recipes
,
Side Dish Recipes
,
Sicilian Recipes
,
Intermediate Recipes
,
All Recipes
,
Christmas Recipes
,
Thanksgiving Recipes
,
Easter Recipes
,
Valentine's Day Recipes
,
Super Bowl Recipes
,
Mother's Day Recipes
,
Father's Day Recipes
,
Memorial Day Recipes
,
4th July Recipes
,
Labor Day Recipes
,
Summer Appetizer-Side Recipes
,
Arancine - Rice Ball Recipes
Reviews
Monday, 24 December 2018
The sauce was amazing, I'm a beginner but the rice was off, maybe I did something wrong but the bu...
See Full Review >>
- Dannydevito74
Thursday, 14 December 2017
Some times I make these and stuff them with Ricotta and Mozzerela.
- rosegrandma39