Nonna Maria's Zucchini & Ham Bake
Nonna Maria's Zucchini & Ham Bake.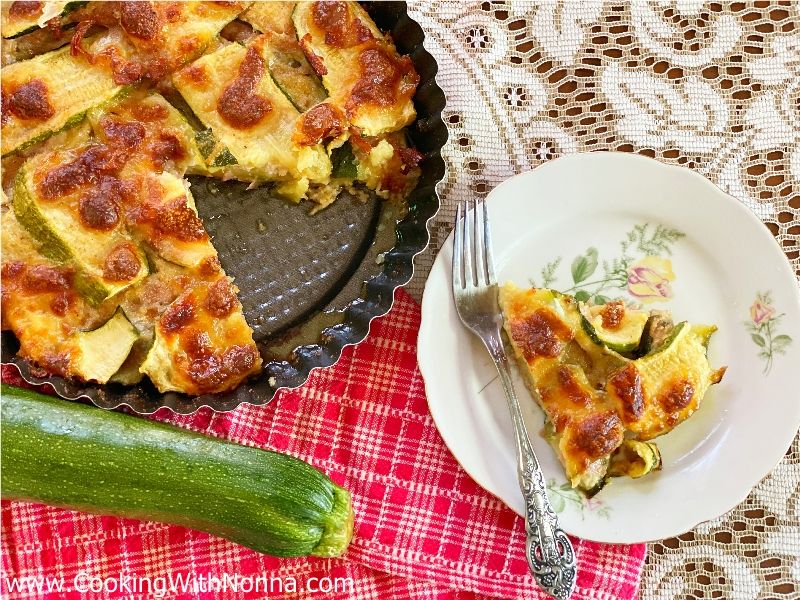 Ingredients
For 1 Batch(es)
For the Bake:
3

zucchini, cut lengthwise into slices a little less than 1/4 inch thick. You may also use a micro plane to cut them.

1/2

cup

plain breadcrumbs

1/4

cup

grated Pecorino Romano cheese

1/4

teaspoon

black pepper

1/2

teaspoon

salt

6

tablespoons

extra virgin olive oil, plus extra for greasing the pan

1/4

pound

sliced ham, torn or cut into small pieces

4

ounces

Scamorza or Mozzarella cheese, cut into a 1/4 inch dice
Directions
Preheat your oven to 400 degrees. Oil a 10-11 inch pan.

In a bowl combine the breadcrumbs, cheeses, salt and pepper. Stir to combine.

Place a layer of zucchini in the bottom of the pan. Top with 1/3 of the ham, 1/3 of the cheese and 1/3 of the breadcrumb mixture. Drizzle with 2 tablespoons of oil.

Repeat twice more.

Bake for 30 minutes, or until the cheese on top begins to turn golden brown.

Cool for 30-40 minutes before cutting. May be served warm or at room temperature.
Reviews
Tuesday, 21 July 2020
This was decadent! I never measured anything and it baked for 40 minutes. The salt and pepper was sp...
See Full Review >>
- smartwoman1958