Nonna's Stuffed Artichokes
Nonna's Stuffed Artichokes... from the goodness of the Earth!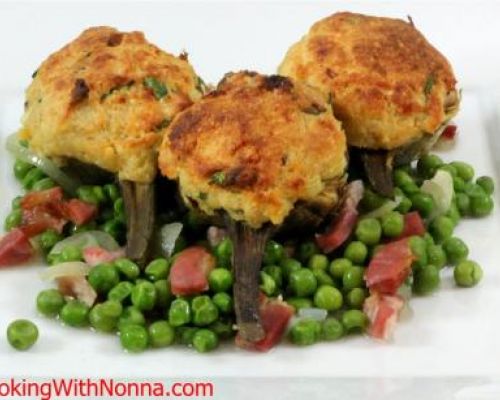 Ingredients
For 4 Person(s)
For the Artichokes:
4

medium fresh artichokes

1

cup

grated pecorino cheese

1/2

cup

lain bread crumbs

2

large eggs

3

cloves garlic chopped finely

1

tablespoon

fresh parsley

milk, as much as needed

salt & pepper as desired

extra virgin olive oil

1

pound

peas

1

medium onion

1/2

pound

pancetta thinly sliced
Directions
Clean the artichokes by removing the harder outer leaves, trim and unpeel the stem and cut the top part of the leaves as they may have thorns. The remaining leaves should be pale green.

Wash and drain the artichokes well.
Cut each artichoke in half and put in a bowl with cold water to avoid that they turn dark.

In a bowl, mix the cheese, bread crumbs, eggs, 3 tablespoons of EV olive oil, garlic, parsley, salt & pepper as desired. If the mix is too hard, add a little milk. The mix should have a soft consistency but not runny.

In a baking pan, add the peas at the bottom together with the onion and the pancetta. Salt and pepper as desired.

Add 3 rablespoons of EV olive oil.

Take each artichoke's half, add a lump of mix to cover the entire cut surface of the artichoke. Position the artichoke in the bed of peas. Stuff all your artichokes.

Add 1-2 cups of water to the pan enough to cover half of the artichoke.

Preheat the oven at 350F.

Put the pan on the stove and let the water come to a boil. Transfer the pan to the oven and cook for about 20-30 minutes. depending on the size of the artichokes. If necessary switch the oven to broil to give a golden color to the artichokes.