Nutella Brownie Christmas Trees
Nutella Brownie Christmas Trees: Christmas tends to bring out the kid in everyone and this recipe is the perfect little project to make (and eat) with kids! I've been seeing all kinds of Christmas tree brownies for the holidays lately and I knew I had to make my own. Oh! And of course I just had to add Nutella into the mix. This Nutella brownie recipe is so simple because I wanted to spend as much time having fun and decorating like a little kid! I recommend decorating them as soon as they're cooled because if they hang around too long they tend to disappear!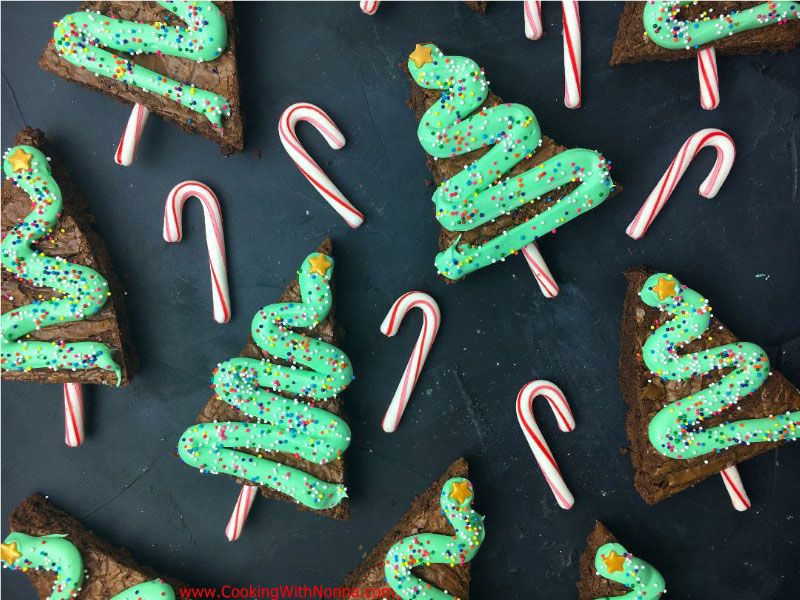 Ingredients
For 10 Person(s)
For the Trees:
1 1/2

cups

Nutella

2

large eggs

1/2

cup

all purpose flour

10

mini candy canes trimmed into sticks

frosting and sprinkles of your choice to decorate.
Directions
Preheat oven to 350 degrees.

Line a 7X11 inch baking pan with aluminum foil and spray with cooking spray.

In a stand mixer or with an electric mixer combine Nutella, eggs and flour until all the flour is absorbed.

Pour the batter into the prepared pan and spread evenly. Bake for 25-30 minutes.

Cool the brownies completely and pull them out of the pan. Use the foil to lift them out.

Cut the brownies in half lengthwise. With a very sharp knife start making diagonal cuts on each long piece to cut out triangles.

Decorate with colored frosting and sprinkles. I used green and rainbow nonpareils but you can use whatever you like.

Insert the candy cane sticks at the base and serve!