Nutella Semifreddo
A rich and luscious dessert made with Nutella and Mascarpone cheese. It's decadent and light as a cloud.
Perfect for ALL Holidays!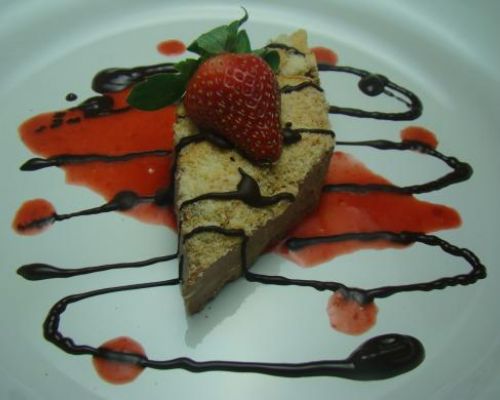 Ingredients
For 1 Batch(es)
Recipe
1 1/2

cups

Nutella

1/3

cup

sugar

1/3

cup

water

4

egg whites

1 1/2

cups

Mascarpone cheese

1/2

cup

whipping cream ( 35%)

12

savoiardi cookies (can be substituted with cookies of your choice)

dark chocolate for drizzling

fresh strawberries for garnish
Directions
Combine the sugar and water in a sauce pot and bring to a boil.

Once the sugar has melted, remove from heat and set aside.

Beat the egg whites until stiff and fluffy.

Slowly drizzle the water and sugar mixture into the egg whites and beat until shiny (approx. 1 minute)

Warm the Nutella until pourable ( do not over heat) and slowly pour it into the egg white mixture. Mix on low speed for 1 minute.

Add the mascarpone cheese and mix until blended with Nutella mixture and no lumps remain.

In a separate bowl beat the cream until thick and stiff.

Now gently fold the chocolate mixture into the whipped cream .

Mix until nicely marbled but do not over mix.

Crush the cookies making sure to leave some chunks intact.

Place them in a mold or baking tray lined with parchment paper.

Fill the bottom of the mold or tray until just covered with cookie.

Cover the cookie with the semmifreddo mixture, wrap with plastic wrap and freeze overnight.

Once frozen, remove from mold or cut desired shape out of tray and plate.

Drizzle with melted dark chocolate and strained puree of fresh strawberries.

Garnish with fresh strawberry and serve immediately.
Recipe Notes
For a further detailed instructional photos on this recipe click here: http://www.indannyskitchen.com/2012/01/nutella-semifreddo-happy-valentines-day.html
Categories:
Dessert & Cookie Recipes
,
All Recipes
,
Christmas Recipes
,
Thanksgiving Recipes
,
Easter Recipes
,
Valentine's Day Recipes
,
Nutella Recipes
,
Mother's Day Recipes
,
Father's Day Recipes
,
Recipe Contest Winners
,
Easter Cakes and Cookies
,
Valentine's Cake and Cookie Recipes
,
Valentine's Day Nutella Recipes
,
Custard, Pudding and Mousses
,
Rossella Nutella
,
Thanksgiving Dessert Recipes
,
Christmas Dessert Recipes
Reviews
Saturday, 12 May 2018
Rich taste
- Sanny