Pasta, Beans and Mussels - Pasta, Fagioli e Cozze
Pasta, Beans and Mussels... another great dish for your Christmas Eve dinner and all year round when you are in the mood for something tasty!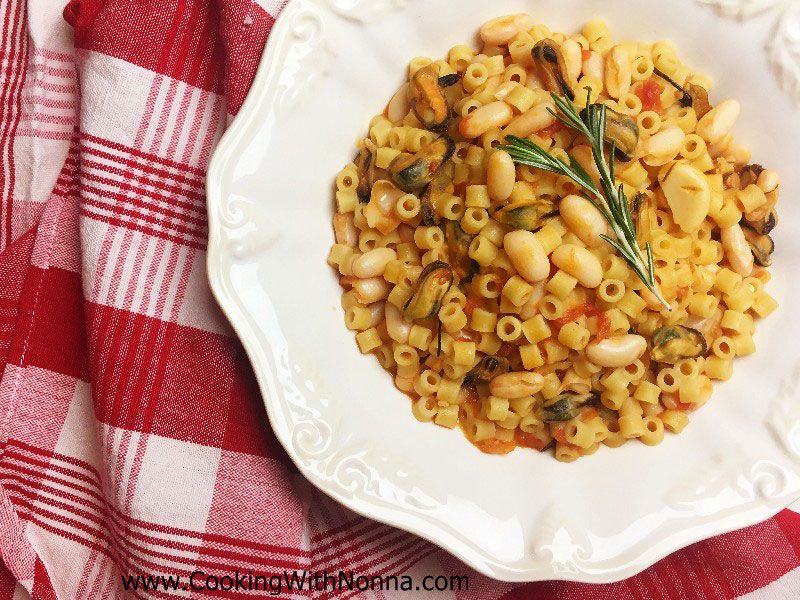 Ingredients
For 4 Person(s)
For the Pasta:
2

pounds

mussels, scrubbed and washedand beards removed

3

tablespoons

extra virgin olive oil

4

cloves garlic, sliced

3

sprigs

fresh rosemary, chopped

2

cups

ceushed tomatoes

1/2

cup

white wine

15

ounces

cannellini beans, drained and rinsed

1

pound

dried ditalini pasta
Directions
Put a 12-14 inch on with a lid over a medium high flame and add the mussels. Cover and steam until all the mussels have opened, about 5-7 minutes. She'll all the mussels and transfer the fruit to a bowl. Reserve all the juice and set aside.

Rinse out the same pan and dry the inside. Put the pan over a medium flame and heat the oil. Add the garlic and rosemary and cook until fragrant, about 1 minute.Once the garlic is beginning to turn golden add the crushed tomatoes and the wine.

Cook until the alcohol has evaporated, about 3-5 minutes. Add the beans and the water reserved from the mussels.

Raise the flame to medium-high and Continue to cook for an additional 10 minutes. Taste for seasoning and season with salt and black pepper as desired.

Separately cook the pasta in a large pot of generously salted boiling water until al dente. Drain and add the pasta to the pot with the sauce.

Add the fruit of the mussels to the pan and continue cooking everything together for 2-3 minutes.

Serve in warm bowls with a drizzle of good quality extra Virgin Olive Oil.
Categories:
Nonna Anna Buonsante
,
First Course Recipes
,
Fish Recipes
,
Italian Pasta Recipes
,
Puglia Recipes
,
Easy Recipes
,
All Recipes
,
Christmas Recipes
,
Easter Recipes
,
Valentine's Day Recipes
,
Mussels Recipes
,
Pasta e Fagioli Recipes
,
Mother's Day Recipes
,
Father's Day Recipes
,
Christmas Fish Recipes
,
Mediterranean Diet First Course Recipes
,
Seafood Pasta Recipes