Penne al Pistacchio
I learned this dish a few years ago from a chef in Catania, Sicily on one of my Cooking With Nonna culinary tours. My group and I were watching a demonstration on how to cook with Bronte pistachios which are indigenous to the area. When the chef offered this pasta to everyone to taste, the whole room was silent as they absorbed the rich flavors of the pancetta de-glazed with brandy and how beautifully the pistachios melted into the creamy sauce.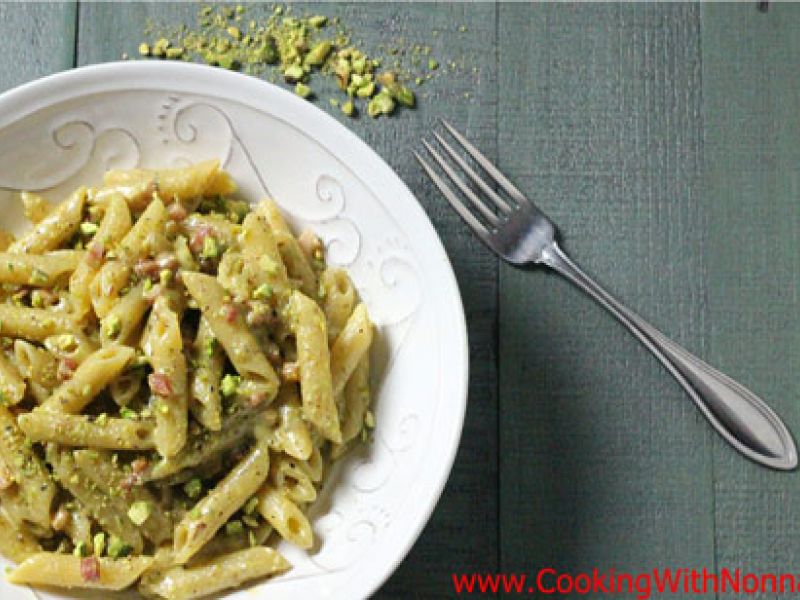 Ingredients
For 4 Person(s)
For the Pasta:
4

ounces

unsalted pistacchio, plus a few more for sprinkling on top (optional)

1

small onion cut into 1/4 inch dices

2

tablespoons

extra virgin olive oil

4

ounces

pancetta, cut in small cubes

1/4

cup

brandy

2

cups

heavy cream

salt and black pepper, as desired

1

pound

dried penne pasta
Directions
Add the pistachios to the bowl of a food processor and process until very finely ground, about 2-2 1/2 minutes.

Bring a large pot of generously salted water to a boil.

Put a large saute` pan over a medium flame and heat the oil. Add the onion and sauté until soft, about 5-7 minutes.

Add the pancetta to the pan and saute` until slightly crisp, about 5 minutes.

Add the brandy and reduce the alcohol completely scraping up any bits at the bottom of the pan with a wooden spoon.

Add the heavy cream and ground pistachios to the pan and stir to combine. Taste for seasoning and add salt and black pepper as desired.

Cook the pasta until very al dente. Drain and add to the pan. Toss for 1-2 minutes and serve immediately. Sprinkle each dish with coarsely chopped pistachios.