Penne Rigate with Fire Roasted Peppers
Penne Rigate with Fire Roasted Peppers... full of summer flavors.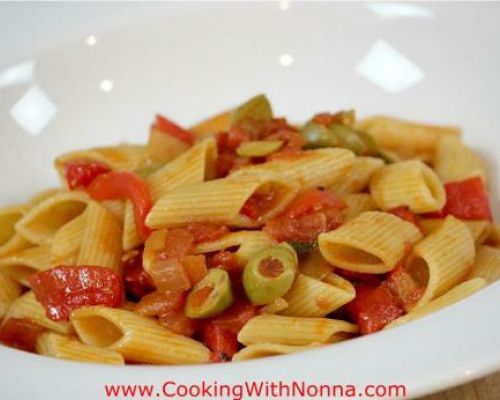 Ingredients
For 4 Person(s)
For the Pasta:
1

pound

penne Rigate pasta

12

ounces

Fire Roasted Peppers

1

cup

crushed tomatoes

1/2

cup

sliced olives

1/2

cup

white wine

4

fillet of anchovies

4

garlic cloves

1

medium onion

10

basil leaves, chopped

peperoncino

salt

extra virgin olive oil

pecorino cheese
Directions
Cook the pasta and remove it very "Al Dente".

In a saute` pan add some EV olive oil together with the chopped onion, garlic, half of the basil and add the anchovies.

Let everything cook until the onion is translucent. Add peperoncino, as desired.

Remove the garlic and add the white wine.

Let the wine evaporate for a minute or two and add the tomatoes and 1/2 cup of pasta water.

Let the tomatoes cook for about 5 minutes.

Add the sliced roasted peppers and the olives and cook for about 3 minutes.

Add the Penne Rigate to the saute` pan and toss for one minute. Add the Pecorino cheese and the remainder of the basil, toss and serve.
Reviews
Thursday, 08 September 2016
Delicious!
- valentine