Pumpkin Ricotta Pound Cake
Pumpkin Ricotta Pound Cake: Great for your Fall celebrations and of course for your Thanksgiving Holidays!!!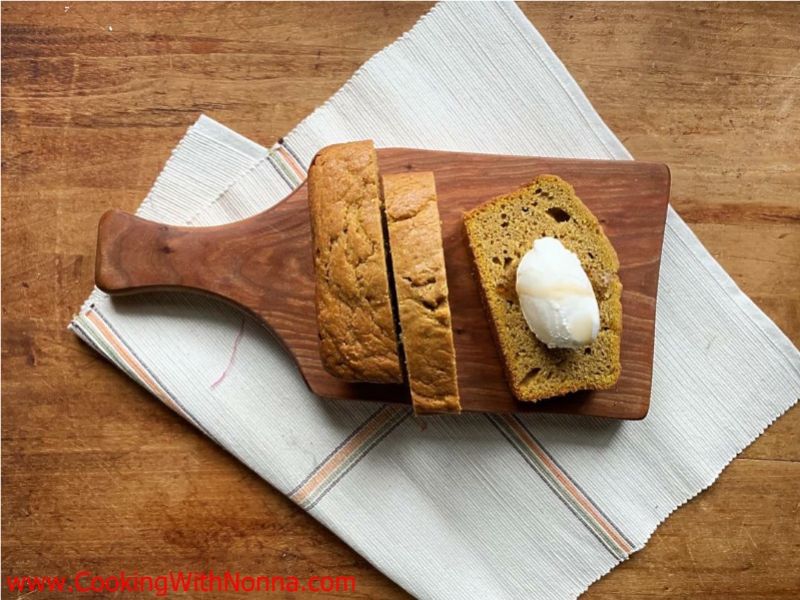 Ingredients
For 12 Person(s)
For the Pound Cake:
2 1/2

cups

cake flour

5

large eggs

1

cup

sugar

8

ounces

unsalted butter (room temperature)

1

teaspoon

salt

1

teaspoon

baking soda

1

teaspoon

baking powder

1

teaspoon

cinnamon

1/2

teaspoon

ground nutmeg

1

teaspoon

ground cloves

1/4

teaspoon

ground ginger

1

cup

canned pumpkin

3/4

cup

whole milk ricotta

butter for buttering the pan

grade B Maple Syrup for garnishing
Directions
In a medium bowl, whisk together dry Ingredients (flour, baking powder, baking soda, salt, ginger, cloves, cinnamon, and nutmeg) set aside.

In a stand mixer with a paddle attachment or with a hand mixer and a separate bowl, cream together butter, ricotta and sugar. Add the pumpkin and mix for about 30 seconds or until well combined.

Add in eggs one at a time, scraping excess of sides of the bowl with a rubber scraper.

Mix in dry ingredients, scraping sides of the bowl with a rubber scraper. Mix until well combined or for another 30 seconds.

Pour batter into a buttered 10x5 loaf pan and smooth top with a small spatula. Tap the pan to get rid of air pockets.

Bake in 350F oven for 55-60 minutes or until an inserted toothpick comes out clean.

Allow cake to cool in pan for 15 minutes before removing it.

In a non-stick skillet (preferably with a grill bottom) butter the bottom of the pan while it is hot.

Grill one side of a slice of the pumpkin pound cake for 2 minutes or until a crust is formed on each side. Butter pan again before flipping.

Place a scoop of Maple Gelato on the slice of the pounf cake.

Drizzle with Grade B Maple Syrup.
Reviews
Wednesday, 25 September 2019
looks good but how much flour is that cups or lbs?? i noticed a lot of recipes have typos...need som...
See Full Review >>
- artyjudy1
Thursday, 14 December 2017
WONDERFUL!!
- condit1
Thursday, 14 December 2017
Recipe looks good but the amount of ricotta is questionable.. Is that 1/2 cup or is it supposed to b...
See Full Review >>
- cuznvin
Thursday, 14 December 2017
Corrected the typo! It should be 3/4 Cup! :)
- rossella rago