Rainy Day Lentil Soup
Rainy Day Lentil Soup: A few days ago when it was raining cats and dogs I got this fierce craving for lentil soup. I rushed home and started clearing out the fridge to see what I could use for supplies. The result was one of the tastiest (and easiest) soups I've made in a long time. No sautéing, no fancy business, I literally just threw everything into the pot and brought it to a boil. This is one yummy soup with simple ingredients that are very easily switched out depending on whatever you have on hand so feel free to improvise and make it your own. I used water and bouillon cubes as my base but you can use chicken or vegetable broth instead.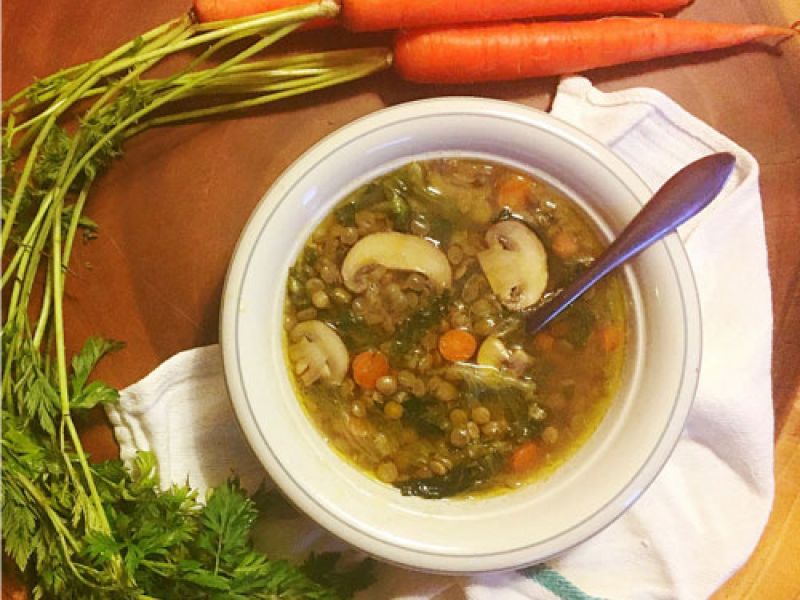 Ingredients
For 6 Person(s)
For the Soup:
10

cups

cold water

2

bouillon cubes, you can use any flavor (I used chicken)

2

tablespoons

extra virgin olive oil

1

pound

lentils

8

baby carrots, or two small carrots cut into a 1/2 inch dice

8

ounces

baby portobello mushrooms, sliced

1

small head escarole, washed and cut into strips
Directions
Put a large stock pot over a medium-high flame. Add the water, bouillon cubes, oil, lentils and carrots.

Bring to a boil and add in the mushrooms and escarole.

Return the pot to a boil and cook until the lentils are tender, about 20-25 minutes, stirring occasionally. Taste for seasoning and add salt as desired.

Serve with crusty bread and a little grated cheese.