Rigatoni al Forno
A baked pasta dish that includes, Shitake mushrooms, Radicchio, sweet Italian sausage, and lots of great cheeses.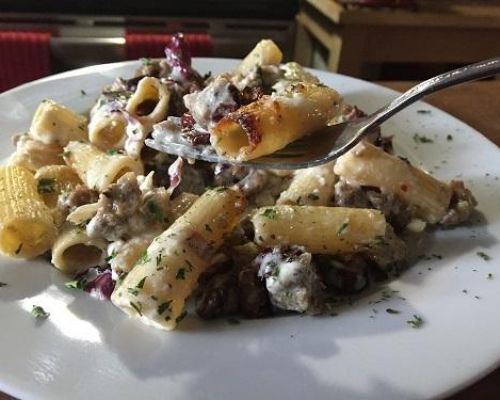 Ingredients
For 8 Person(s)
For the Pasta:
1 1/2

sweet Italian sausage, casing removed.

2

pints

Shitake mushrooms, stems removed and sliced.

4

ounces

unsalted butter, plus 8 tablespoons to dot the top and enough to grease the baking dish.

1

tablespoon

extra virgin olive oil

1/4

cup

yellow onion.

2

tablespoons

minced garlic.

2

heads ( 2 cups) of finely sliced radicchio.

1

teaspoon

Kosher salt

2

teaspoons

crushed red pepper flakes.

1/2

teaspoon

black pepper.

2 1/2

cups

heavy cream.

1/2

cup

freshly grated Parmigiano-Reggiano.

3/4

cup

shredded fontina cheese.

1/4

cup

Gorgonzola, crumbled.

4

teaspoons

ricotta.

8

sage leaves chopped finely.

24

ounces

Rigatoni, (1-1/2 boxes).

leaf Italian parsley for garnish.
Directions
Start by sauteing the diced onion, crushed red pepper flakes, and a pinch of Kosher salt, in olive oil.

Have a large pot ready, on the back burner, with salted water at a boil for the pasta.

Next add in the Italian sausage and cook, on med heat, for about 10-15 minutes until fully cooked.

Using a slotted spoon remove cooked sausage and place in a bowl.

Drain off all the grease from the pan.

Using same pan, on med high heat, add in the butter and saute the sliced Shitake mushrooms and garlic.

Add the sauteed mushroom and garlic to the bowl with the sausage.

Add the sliced sage leaves to the sausage and mushroom mixture and combine.

In another large bowl, add in all the cheeses, sliced radicchio, heavy cream, black pepper, and Kosher salt.

Mix all these ingredients to combine.

Now both bowls have their ingredients and are ready.

Next combine the sausage and mushrooms to the larger bowl with the radicchio and cheese mixture.

Combine all these ingredients together.

At this point add the Rigatoni to the boiling salted water and cook for only 4 minutes.

Drain pasta and add into the bowl with the rest of the ingredients.

Mix gently so not as to break the up the pasta.

Using a spatula, get everything into the buttered baking dish.

Dot the top of the pasta dish with butter.

Place into a 500 degree F. oven for 10-12 minutes, until bubbly, golden brown and crispy on top.
Recipe Notes
Start by having your onion diced, garlic minced, and sage leaves chopped. Also have the baking dish buttered and ready. While the sausage is cooking be prepping all the mushrooms and radicchio. This will save time in making the dish. While mushrooms are sauteing, prep all the cheeses and place them into a very large bowl. Another good tip is not to add in the minced garlic until mushrooms are a least half way done. This will ensure the garlic doesn't burn. Also, while the mushrooms are sauteing, preheat the oven to 500 degrees F.
Categories:
First Course Recipes
,
Italian Pasta Recipes
,
Easy Recipes
,
All Recipes
,
Thanksgiving Recipes
,
Valentine's Day Recipes
,
Rigatoni Recipes
,
Sausage Recipes
,
Mother's Day Recipes
,
Father's Day Recipes
,
Baked Pasta Recipes
,
Valentine's Day  Recipes
,
Thanksgiving First Course Recipes
,
Easter First Course Recipes