Rigatoni with roasted butternut squash, pancetta and radicchio
Rigatoni with roasted butternut squash, pancetta and radicchio.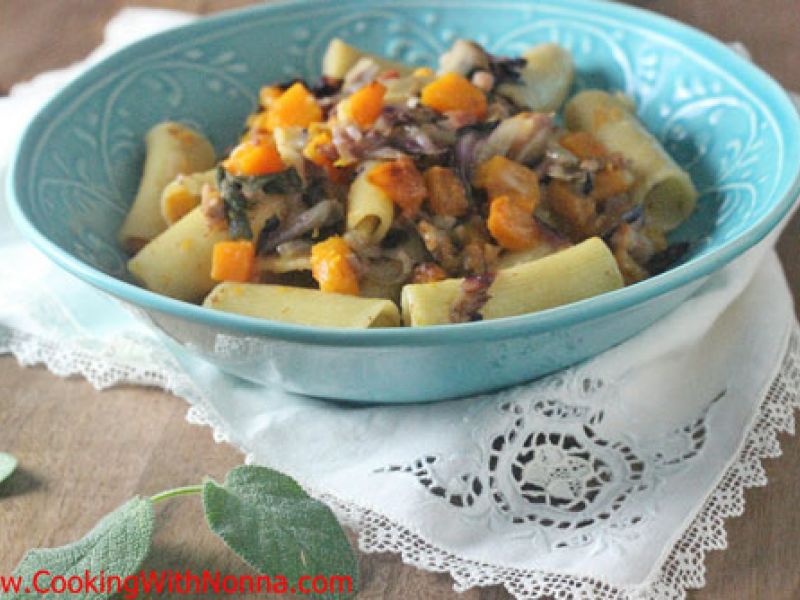 Ingredients
For 4 Person(s)
For the Pasta:
5

tablespoons

extra virgin olive oil, divided

1

small butternut squash, about 2 1/2 cups cut into a 1/2 inch dice

1/2

teaspoon

salt

1

pound

dried rigatoni

2

shallots sliced

4

ounces

pancetta, cubed

6

sage leaves, torn

half a small head of radicchio, about 5 oz cut into thin strips.

1/2

cup

chicken broth

1/4

cup

grated pecorino Romano cheese
Directions
Preheat the oven to 425 degrees.

In a mixing bowl toss the squash with 2 tablespoons of the olive oil and salt. Spread onto a 13x18 baking sheet and roast for 20-25 minutes tossing halfway through. Transfer to a plate and set aside.

Bring a large pot of generously salted water to a boil and cook the rigatoni until al dente. Drain and reserve about a cup of cooking water. Set aside.

Put a large saute` pan over a medium-high flame and heat the remaining oil. Add the shallots and saute` for about 3-4 minutes.

Add the pancetta and sage and saute` until crisp, about 5-7 minutes.

Add in the radicchio and saute` until just wilted, about 2 minutes.

Add the chicken broth and saute` scraping up the bits from the bottom of the pan with a wooden spoon. Cook for 1-2 minutes and add in the squash and the rigatoni.

Toss the pasta with everything using some of the cooking water if it's a bit dry. Turn off the heat and add the pecorino cheese tossing to melt.

Serve in warm bowls with an extra sprinkle of pecorino!