Riso, Patate e Cozze
Tiella Barese: Riso, patate e cozze... a classic from Puglia.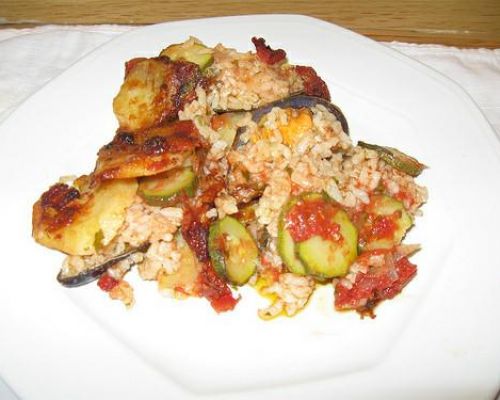 Ingredients
For 4 Person(s)
For the Tiella:
2

pounds

fresh mussels

1

pound

Lrice

3

medium potatoes

2

zucchini

5

tomatoes, chopped

2

onions, sliced

4

cloves garlic, chopped finely

1/4

pound

grated pecorino cheese

extra virgin olive oil

fresh parsley

salt & pepper
Directions
Open all the mussels and leave the fruit on the half shell. Save any juice that comes out of the mussels.

Take a large bowl and add 1 Qt of water. Salt the water as desired and add the wine and 3 Tbs of EV olive oil,

Slice all the zucchini and potatoes and add to the water.

Chop the garlic and onions and add to the water. Add the tomatoes and the chopped parsley.

Let the ingredients in the bowl marinate for 1 hour.

Take a 10" oven pan and cover the bottom with slices of onions from the bowl. Cover the onions with a layer of the potatoes.

Lay over the potatoes a layer of mussels.

Put 1/2 Tbs of rice on each mussel. Then spread some rice over the entire surface.

Sprinkle a generous amount of Pecorino over the rice.

Cover with a layer of zucchini and pieces of the tomatoes.

Repeat another layer of onions, potatoes, mussels, rice, cheese. On the very top cover with the remaining potatoes and vegetables.

Pour into the bowl the liquids until all the content is covered by 1/2 inch. If the liquids are not sufficient add some water.

Top with a generous sprinkle of Pecorino.

Cover the pan with aluminum foil and cook for 50 mins. at 350F, then remove the foil and cook for an additional 10 mins.
Categories:
First Course Recipes
,
Entree Recipes
,
Fish Recipes
,
Puglia Recipes
,
All Recipes
,
Cooking with Rossella
,
Valentine's Day Recipes
,
Mussels Recipes
,
Mother's Day Recipes
,
Father's Day Recipes
,
Memorial Day Recipes
,
4th July Recipes
,
Labor Day Recipes
,
Potato Recipes
,
Gluten Free First Courses Recipes
,
Mediterranean Diet First Course Recipes