Roasted Vegetable Soup
A deep, rich, velvety soup made with roasted vegetables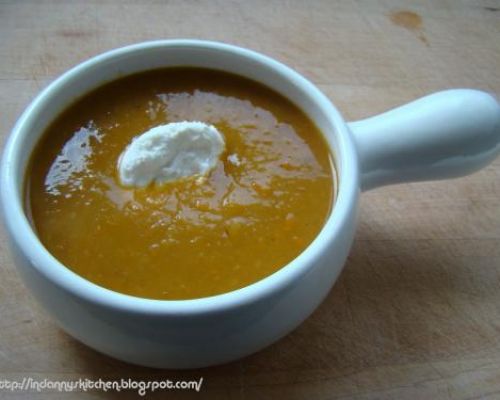 Ingredients
For 8 Person(s)
For the Soup:
8

cups

vegetable stock (Homemade or store bought, low sodium)

2

large potatoes

2

leeks

2

onions ( red or white)

2

carrots

2

cloves of garlic

2

cups

cherry or grape tomatoes

salt and pepper

2

tablespoons

extra virgin olive oil

unripened goat cheese ( Chevre) ***optional**
Directions
Clean and coarsely chop all veggies and place in a baking dish.

Drizzle with olive oil and sprinkle with salt and pepper.

Place in a 425F oven for 1 hour or until nicely roasted and caramelized.

Once nicely roasted, remove veggies from tray and place in a food mill.

Place vegetable stock in a large pot and begin milling veggies (medium blade) into stock until all the veggies have gone through and you are left with nothing but dry skins and fibers.

**I don't recommend using a blender in place of the mill because it will not remove skin and fibers.**

Using a medium blade will allow some larger chunks of vegetables to pass through while keeping the fibers and skins out.

The result is a super rich vegetable content in your soup.

This can be heated through and served immediately but I like to simmer this mixture for 2 hours using a wisk to stir occasionally.

In doing so, the soup will reduce by almost half creating a wonderfully thick and hearty soup.

Roasting the veggies gives it a deep, rich color and a sweet earthy taste unlike any "boiled" vegetable soup you would usually have.

All it takes it one extra step and a little more time but trust me, it's worth it!
Recipe Notes
I like to add a dollop of goat cheese (Chevre) to the soup just before serving for added richness.
Reviews
Thursday, 14 December 2017
This is a favorite in our house. Can be frozen and stored for winter.
- Danny Campo