Stuffed Peppers
Are you trying to stick to your New Year's resolution of eating healthier? This tasty, easy recipe will help you do just that. We love stuffed peppers at our house and typically stuff them with ground beef and rice. I substituted the beef and rice with black beans and couscous. The results were amazing!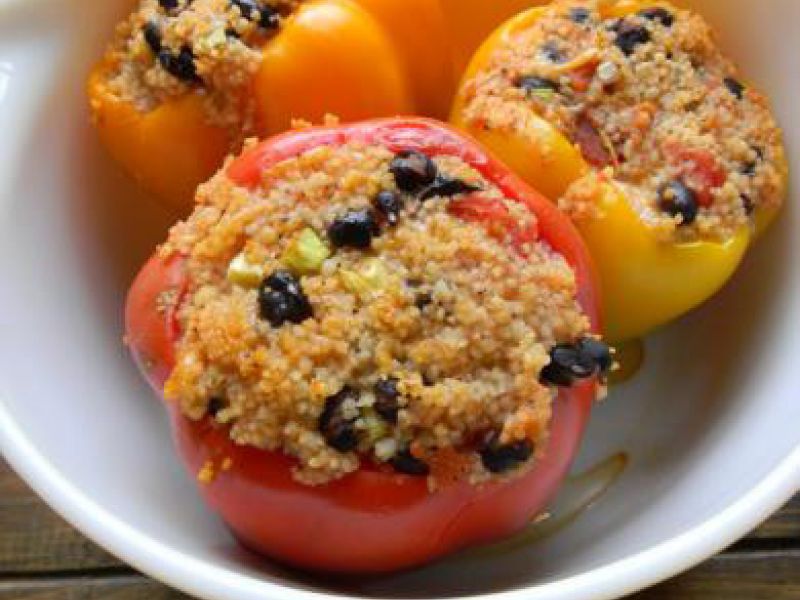 Ingredients
For 4 Person(s)
For the Peppers:
15 1/2

ounces

black beans, drained and rinsed

14 1/2

ounces

can (14.5 ounce) diced tomatoes, (do not drain)

2

tablespoons

tablespoons green onions, chopped

1/2

cup

cup Vegan Parmesan Cheese, shredded (For non-Vegan you can use regular Parmesan cheese)

1

cup

cup couscous, cooked according to package directions

1/2

teaspoon

teaspoon salt

1/2

teaspoon

pepper

4

green, red, yellow or orange sweet peppers
Directions
Preheat oven to 400 degrees.

Wash the peppers, cut off the top and hollow out the inside.

Cook couscous according to package directions.

In a bowl combine cooked couscous with beans, tomatoes, onions, salt, pepper and cheese.

Spoon mixture into peppers.

Place peppers in a casserole dish and cover.

Bake for 45 minutes or until peppers are soft when pierced with a fork.
Recipe Notes
For more healthy makeovers visit us all January-long at www.CarolinaHeartStrings.com
Categories:
Entree Recipes
,
All Recipes
,
Valentine's Day Recipes
,
Mother's Day Recipes
,
Father's Day Recipes
,
Peppers Recipes
,
Valentine's Day  Recipes
,
Diabetic Entree Recipes
,
Heart Friendly Entree Recipes
,
Gluten Free Entree Recipes
,
Vegetarian Entree Recipes
,
Vegan Entree Recipes
,
Mediterranean Diet Entree Recipes