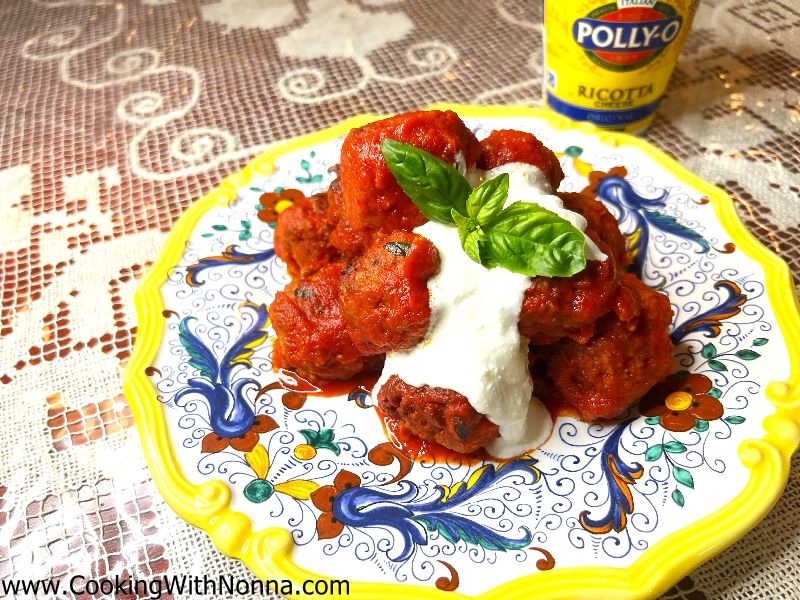 Ingredients
For 1 Batch(es)
For the meatballs:
1

cup

plain breadcrumbs

1/3

cup

whole milk

1/2

pound

sweet or hot Italian sausage

1/2

pound

ground veal

1/4

cup

fresh basil, minced

4

cloves garlic, minced

1

large egg

1

teaspoon

salt

1/4

teaspoon

black pepper

1

cup

grated Parmigiano Reggiano cheese

olive oil for frying
For the sauce:
2

tablespoons

extra virgin olive oil

3

cloves garlic, sliced

1

24oz jar Passata or 1-28oz can Tomato purée

1

teaspoon

salt

4

basil leaves, torn
Directions
Get the ingredients needed for this recipe

HERE

Yield: about 20 meatballs

To make the meatballs:

In a small bowl, stir together the breadcrumbs and milk and set aside for 5 minutes.
In another large mixing bowl, combine the remaining ingredients along with the breadcrumbs soaked in milk.
Mix with your hands until combined and shape into about 20 meatballs the size of a rounded tablespoon.
Transfer to plates and refrigerate for 15 minutes before frying.
Put a large saute pan over a medium high flame and heat the oil. Add the meatballs to the pan and cook until browned on all sides, about 7-8 minutes. Transfer to a plate and set aside.

To make the sauce:

Put a large sauté pan with a lid over a medium flame and heat the oil. add the garlic and saute until golden, about 1 minute.
Add the pureed tomatoes. Fill the van or jar 1/4 of the way with water.
Slosh it around and add the water to the pan as well.
Add the salt and basil. Cook for 5 minutes.
Add the meatballs to the pan. Lower the heat to a simmer and cover.
Cook for 15-20 minutes while stirring occasionally with a wooden spoon.
Serve with a dollop of fresh ricotta or with pasta.