Winter Minestrone
Winter Minestrone... a melting pot of leftover vegetables that were available to Nonna in the winter and that she had to consume or they would go bad.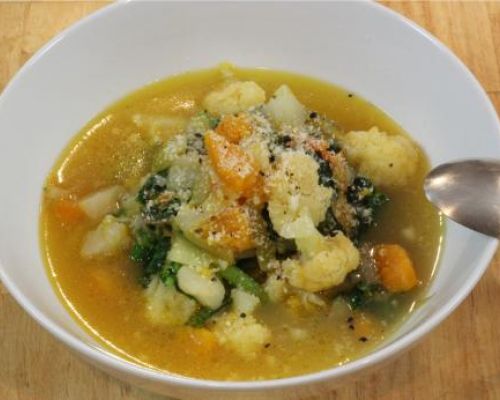 Ingredients
For 4 Person(s)
For the Minestrone:
4

potatoes - cubed

2

cups

butternut squash - cubed

1

medium onion

2

stalks of celery, chopped

5

cherry tomatoes

2

cups

cauliflower florets

3

small artichokes, sliced

1/2

bunch of broccoli rabe, chopped in half

2

bay leaves

extra virgin olive oil

salt & fresh black pepper

pecorino cheese
Directions
Put 10 cups of water in a pot, keep it boiling and set aside.

In a large pot, add 4 Tbs of EV olive oil and the onion chopped finely and the bay leaves. Saute` the onion until it becomes translucent.

Add the potatoes and the butternut squash and saute` them in the onion for about 2 mins.

Add the cauliflowers, the artichokes, the tomatoes and the celery and saute for about 2 mins.

Add about 4 cups of water enough to cover the ingredients and let everything cook at medium flame for about 10-15 mins.

If it gets too dry add some more hot water. Add salt as desired.

Taste the potatoes and they are almost tender add the broccoli rabe.

Let the broccoli rabe cook for 4-5 mins. and serve with pecorino cheese and fresh black pepper.
Categories:
Nonna Romana Sciddurlo
,
First Course Recipes
,
Puglia Recipes
,
All Recipes
,
Soup Recipes
,
Broccoli Rabe Recipes
,
Artichoke Recipes
,
Butternut Squash Recipes
,
Heart Friendly First Courses Recipes
,
Gluten Free First Courses Recipes
,
Vegetarian First Course Recipes
,
Mediterranean Diet First Course Recipes
,
Cucina Povera della Nonna