Summer Minestrone
Summer Minestrone... with all the fresh vegetables from your garden!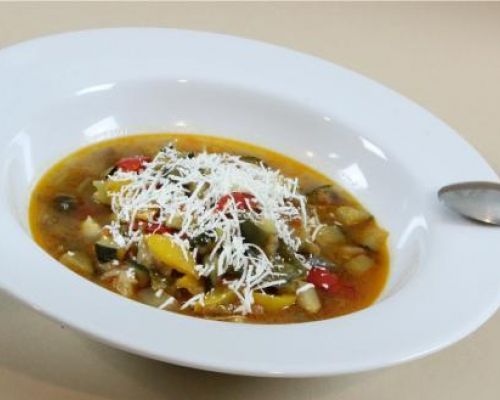 Ingredients
For 4 Person(s)
For the Minestrone:
1

eggplant

2

zucchine

1

red pepper

1

green pepper

1

yellow pepper

3

potatoes

3

tomatoes

1

onion

fresh parsley

extra virgin olive oil

salt & pepper

Ricotta Salata (optional)
Directions
Wash and cut all your vegetables in small cubes.

In a pot, add 4 Tbs of EV olive oil and the chopped onion.

Saute the onion for a few minutes and add the potatoes.

After 2-3 mins. add all the other vegetables and saute for an additional 2-3 mins. by often stirring them all together.

Add salt & pepper as desired.

Cover all the vegetables with boiling water. Cover the pot and cook at medium flame for 15-20 mins. Stir occasionally.

Taste the potatoes, if they are done, the Minestrone is done.

Serve with Ricotta Salata.
Categories:
Nonna Romana Sciddurlo
,
First Course Recipes
,
Puglia Recipes
,
All Recipes
,
Soup Recipes
,
Eggplant Recipes
,
Zucchini Recipes
,
Peppers Recipes
,
Diabetic First Courses Recipes
,
Heart Friendly First Courses Recipes
,
Gluten Free First Courses Recipes
,
Vegetarian First Course Recipes
,
Vegan First Course Recipes
,
Mediterranean Diet First Course Recipes
,
Cucina Povera della Nonna