Zuppa di Pesce Marechiara
Seafood in a light tomato based sauce. This recipe originated in the Gulf of Naples area.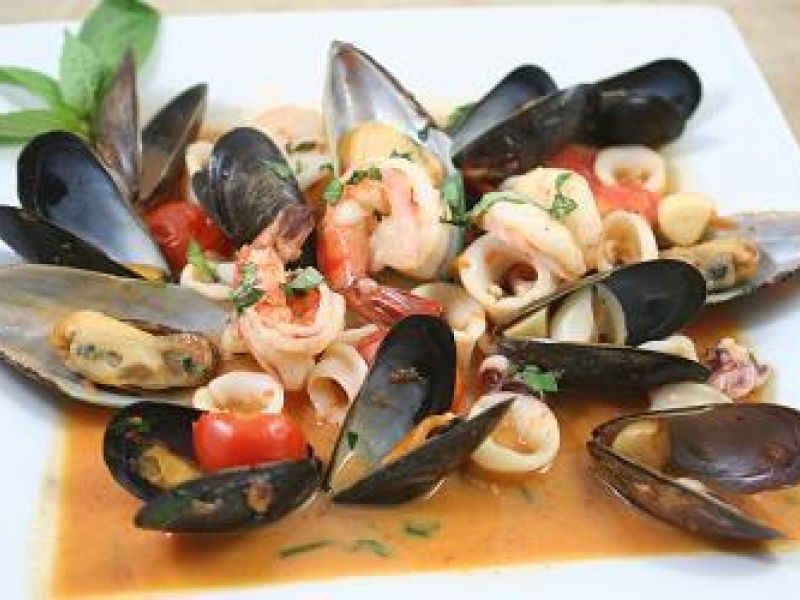 Ingredients
For 4 Person(s)
For the Zuppa:
1/2

pound

fresh mussels, scrubbed and de bearded

6

little neck clams

3

tablespoons extra virgin olive oil

6

cloves of garlic, sliced 

1/4

teaspoon

red pepper flakes, optional

1/2

pound

fresh calamari, cleaned and cut into rings

1

cup

dry white wine

1/2

pound

fresh shrimp

1/2

pound

fresh scallops

1

14oz can cherry tomatoes

1/2

cup

fresh parsley, chopped
Directions
Add the clams and mussels to a bowl and cover with cold water. Add a handful of salt and soak for about 15-20 minutes. This will help all the sand come out and settle to the bottom of the bowl.

Put a large stock pot over a medium flame and heat the oil. Add the garlic and red pepper flakes and cook until the garlic is golden, about 30 seconds.

Add the calamari, the mussels and the clams. Saute` for two minutes. Then add the white wine and cook for 1 minute.

Add the cherry tomatoes, shrimp and scallops to the pot. Stir to combine. Cover and cook until all the clams and mussels are open, about 5-7 minutes. Stir in the parsley.

Taste for seasoning and season with salt and black pepper as desired. Serve with crusty Italian bread for dipping.
Categories:
Nonna Amalia Lubrano
,
First Course Recipes
,
Entree Recipes
,
Fish Recipes
,
Campania Recipes
,
Intermediate Recipes
,
All Recipes
,
Christmas Recipes
,
Thanksgiving Recipes
,
Easter Recipes
,
Valentine's Day Recipes
,
Mussels Recipes
,
Shrimp Recipes
,
Zuppa di Pesce Recipes
,
Mother's Day Recipes
,
Father's Day Recipes
,
4th July Recipes
,
Labor Day Recipes
,
Clams - Vongole Recipes
,
Christmas Fish Recipes
,
Valentine's Day  Recipes
,
Easter Dinner Recipes
,
Gluten Free Entree Recipes
,
Mediterranean Diet Entree Recipes
,
Thanksgiving First Course Recipes
,
Christmas First Course Recipes
,
Easter First Course Recipes
Reviews
Thursday, 14 December 2017
-
Thursday, 14 December 2017
FANTASTICO!!! I couldnt believe how simple and delicious this was. Simple and delicious isn't that ...
See Full Review >>
- jsilva973