Asparagus Frittata Recipe
Asparagus Frittata Recipe. A family favorite that you can make with asparagus or any other vegetable that you like!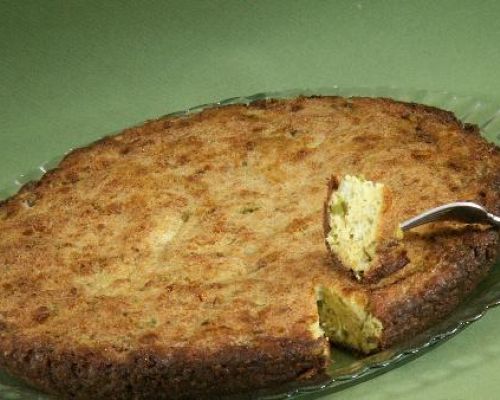 Ingredients
For 10 Person(s)
For the Frittata:
1

pound

fresh asparagus

2

cups

grated Pecorino cheese

1

cup

plain bread crumbs

10

large eggs

6

cloves garlic - finely chopped

1

tablespoons

fresh mint - finely chopped

1/2

cup

milk

extra virgin olive oil

salt & pepper
Directions
Clean the asparagus by removing the hard part. Wash and cut into small pieces and dry.

In a bowl, add the asparagus, bread crumbs, cheese, garlic and mint and mix well. Add salt and pepper as desired.

In a separate bowl beat the 10 eggs with the milk. Add the eggs to the mixture and mix very well. Add 4 Tbs of EV olive oil and continue mixing.

Pre-heat the oven to 400F.

In a 12" cast iron skillet add 1/2 cup of EV olive oil and put on the stove. Once the oil is hot, add the mixture to the pan and quickly spread it evenly.

Let it cook for about 2-3 minutes on the stove and then transfer the pan to the top level of your oven.

Let it cook for 50 minutes (or once the top colors to your liking) and you will have a perfect and crispy Frittata.
Recipe Notes
PS: You can substitute the Asparagus with any other vegetable that you prefer!
Categories:
Nonna Romana Sciddurlo
,
Entree Recipes
,
Side Dish Recipes
,
Puglia Recipes
,
Easy Recipes
,
All Recipes
,
Christmas Recipes
,
Thanksgiving Recipes
,
Easter Recipes
,
Valentine's Day Recipes
,
Frittata Recipes
,
Super Bowl Recipes
,
Asparagus Recipes
,
Mother's Day Recipes
,
Father's Day Recipes
,
Memorial Day Recipes
,
4th July Recipes
,
Labor Day Recipes
,
Valentine's Day  Recipes
,
Easter Dinner Recipes
,
Christmas Dinner Recipes
,
Vegetarian Entree Recipes
,
Mediterranean Diet Entree Recipes
,
Thanksgiving Appetizers and Sides Recipes
,
Christmas Appetizer Recipes
,
New Year's Eve Recipes
,
Easter Appetizer and Side Recipes