Bagna Cauda
Bagna Cauda, very versatile, can be used as a dip for vegetables, over polenta or as a salad dressing.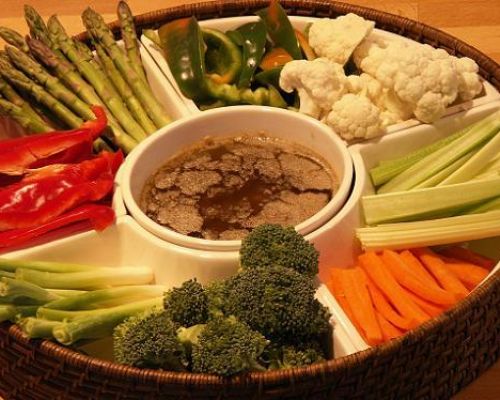 Ingredients
For 4 Person(s)
For the Bagna Cauda:
4

cloves of garlic finely chopped

1

stick of butter

2

2mall cans of anchovies fillets

3

tablespoons

extra virgin olive oil

fresh pepper
Directions
In a saucepan, put the butter, garlic, anchovies (and their own oil), EV olive oil and fresh pepper to taste.

Stir and cook gently for 10 minutes.

In another pot, give a quick boil to your preferred fresh vegetables cut into slices. But they must be served still very crunchy. If you like you can also serve them raw.

Pour that Bagna Cauda in a communal pot, with warmer if available.

Dip the vegetables and enjoy.
Recipe Notes
It was tradition to stand around the table to dip. Bread was eaten only with the vegetables and not allowed to be dipped as it would absorb too much of the butter and anchovies. Should any of the sauce be left, the bread soakers would have the delightful job of wiping the pot clean with their bread. The bread was frequently homemade for the occasion of a Bagna Cauda appetizer event.
The sauce was frequently used as a salad dressing, substituting olive oil instead of butter. Pour and mix hot into salad.
For special sit-down occasions – lunch or dinner - the Bagna Cauda was used as a topping over polenta. The polenta (consistency of mashed potatoes) was placed on an individual plate, covered with a few tablespoons of Bagna Cauda, and sprinkled with parmigiano cheese and pepper.
Reviews
Thursday, 14 December 2017
I grew up with this being made the only difference is we add walnuts to it. For dipping we use roas...
See Full Review >>
- sh0624
Thursday, 14 December 2017
This recipe is right on. I would like to add that sliced sourdough french bread is held below the di...
See Full Review >>
- stevelupi
Thursday, 14 December 2017
I grew up eating this and loving it. My grandfather would make it in a small enamel pan on the cook ...
See Full Review >>
- Franrayce