Broccoli Rabe and Sausage Stuffing
Broccoli Rabe and Sausage Stuffing.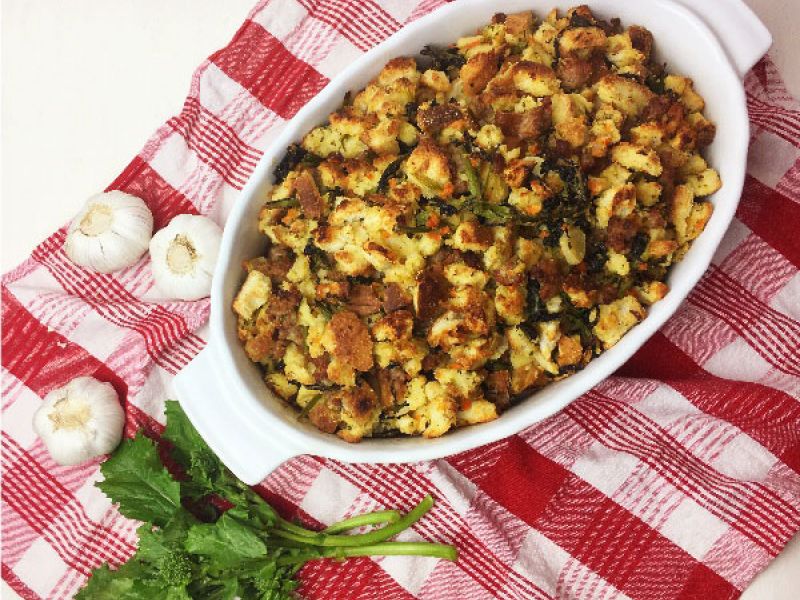 Ingredients
For 8 Person(s)
For the Stuffing:
1

large loaf of Italian bread, about 8 Cups, torn into bite size pieces

1/4

cup

extra virgin olive oil, divided

1

pound

sweet Italian sausage, casings removed

3

celery stalks, minced

2

medium carrots, minced

10

cloves fresh garlic, sliced

1

bunch broccoli rabe, washed, ends trimmed and cut into bite size pieces

2 1/2

cups

chicken broth, divided

2

large eggs

1/2

cup

unsalted butter, melted

1

cup

grated Pecorino Romano cheese

salt and black pepper as desired
Directions
Preheat your oven to 400 degrees. Butter a large casserole dish and a sheet of aluminum foil. Set aside.

Spread out the bread on two 13x18 inch baking sheets. Bake the bread until dry, about 10 minutes. Remove from heat and transfer to a large mixing bowl. Set aside.

Put a large sauté pan with a lid over a medium flame and heat two tablespoons of the oil. Add the sausage and sauté while breaking it up with a wooden spoon into small pieces. Cool until the Sausage has browned, about 7-10 minutes. Transfer to a plate using a slotted spoon. Set aside.

Add the remaining oil to the pan along with the celery, carrots and garlic. Cool until slightly softened, about 5 minutes. Add in the broccoli rabe and a generous sprinkle of salt. Cool until the broccoli rabe begin to wilt, about 3-4 minutes. Add 1/2 cup of broth to the pan with the sausage. Cover and cook until the broccoli rabe has softened considerably and the liquid has evaporated, about 8-10 minutes. Remove from heat and add to the mixing bowl with the bread.

In a mixing bowl whisk together the remaining broth, eggs, melted butter, cheese, salt and pepper. Pour the mixture over the bread little by little while mixing with a spoon. It may appear dry at first but just keep mixing.

Cover with the foil, butter side down and bake for 20 minutes. Uncover and bake an additional 20 minuets or until the top is golden brown.