Calzone di Cipolla (Onion Pie)
I learned this recipe from my Mama who is from Grumo Appula, Bari. You can get Calzone di Cipolla (Onion Pie) in almost any Pizza Store in Bari, it's as popular as pizza is. We make this on Frridays during Lent sometimes, when you are noy allowed to eat meat.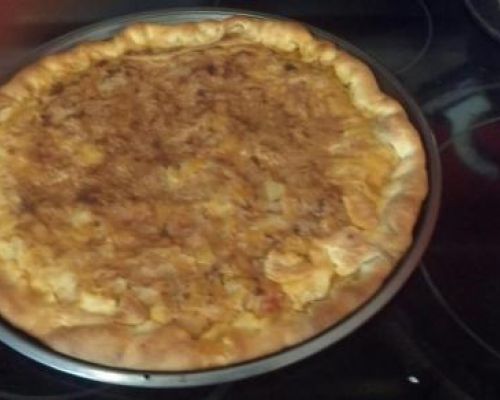 Ingredients
For 8 Person(s)
For the Calzone:
1

pound

pizza dough

5

medium onions

4

canned plum tomatoes

1

teaspoon

ricotta forte

pinch of salt, pepper and oregano

extra virgin olive oil

Optional: anchovies or olives
Directions
Cut dough in half and roll out each half nice and thin. Use a low pan either round or rectangular and line the bottom with Olive Oil. Strech the bottom dough in the pan (sometimes I use clothes pins to hold the dough in place) and let sit until the onions are ready.

Preheat the oven to 425 degrees.

Peel the onions and cut into thin strips and place in a saucepan. Add a few tablespoons of oilive oil, salt, pepper, oregano and break up the plum tomatoes with your hand and add. Optional: if you are adding anchovies or olives , add at this time.

Cook onion mixture on low, stirring frequently, when onions beging to get soft add the Ricotta Forte and cook for a few more minutes and remove from heat.

Spread onion mixure evenly on the bottom half of the dough in the pan. Cover with the top half of the dough and completely seal the edges. Cut a few slits on the top of the dough.

Bake at 425 degrees until dough gets brown, aproxametly 30 minutes.
Recipe Notes
Note: The Ricotta Forte is very potent so don't over do it. It's hard to find becuase it's imported from Bari. I get mine from Frank and Sals 8008 18th Avenue, Brooklyn. Most italian specialty stores should have it, I found it in Pennsylvania beleive it or not.