Maccheroni col Pettine e Ragu` alla Bolognese
When it comes to Ragu` you need to go to Emilia-Romagna to find the absolute best (Read the Full Story).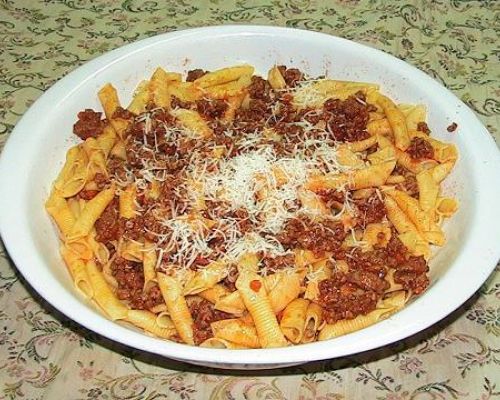 Ingredients
For 4 Person(s)
For the Ragu`:
1

pound

Garganelli pasta (Pasta al Pettine) - or Egg Noodles

1/2

pound

chopped meat (Beef - very lean)

1/2

pound

fresh pork sausage, remove the skin (or pork chopped meat)

1

medium onion finely chopped

1

carrot finely chopped

1

stalk of celery finely chopped

6

tablespoons

extra virgin olive oil

5

ounces

concentrated tomato paste

nutmeg

2

dried cloves

grated Parmigiano Reggiano

1

tablespoon

salt
Directions
Saute` the onion in EV olive oil until it withers.

Add the carrot and the celery and cook for a few minutes

Add the chopped meat and the sausage, mix well and cook for an additional 5 minutes.

Add salt, some nutmeg and the cloves.

Stir well and add the tomato concentrate and 1/2 cup of water.

Cook at very low heat for one hour. Stir from time to time. You want the Ragu` to reach a rather dry consistency (see photo below).

Pour the Ragu` over tha pasta which you have cooked "al dente"

Sprinkle a generous dose of parmigiano before serving.
Categories:
First Course Recipes
,
Meat Recipes
,
Nonna Nives Bruschi
,
Italian Pasta Recipes
,
Emilia Romagna Recipes
,
Intermediate Recipes
,
All Recipes
,
Christmas Recipes
,
Thanksgiving Recipes
,
Easter Recipes
,
Valentine's Day Recipes
,
Ragu` Recipes
,
Parmigiano Reggiano Recipes
,
Mother's Day Recipes
,
Father's Day Recipes
,
Tomato Recipes
,
Italian Pasta Sauces
,
Valentine's Day  Recipes
,
Easter Dinner Recipes
,
Christmas Dinner Recipes
,
Thanksgiving First Course Recipes
,
Christmas First Course Recipes
,
Easter First Course Recipes
,
Sunday Dinner Recipes