Maritati Pasta with Tiny Meatballs
Maritati Pasta with Tiny Meatballs in tomato sauce... perfect for your Sunday Dinner!
Maritati Pasta is the marriage of Orecchiette (female) and Maccheroni Casarecci (male)... together they make a great couple!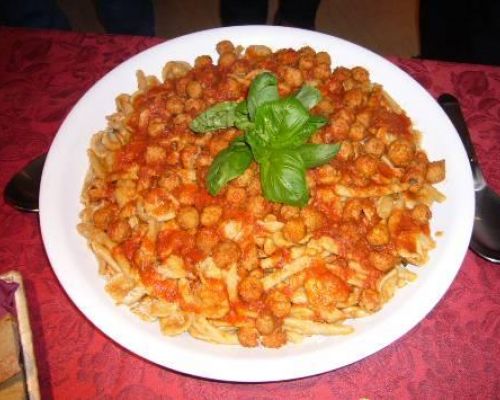 Ingredients
For 4 Person(s)
For the Maritati:
1/2

pound

homemade Orecchiette

1/2

pound

homemade Maccheroni Casarecci

1

onion, chopped finely

56

ounces

crushed tomatoes

1

tablespoon

fresh chopped parsley

1/2

cup

white wine

1/2

pound

ground beef

1/2

pound

grated Pecorino cheese

1/4

pound

bread crumbs

4

large eggs

4

cloves garlic finely chopped

fresh basil

extra virgin olive oil

salt & pepper

oil for frying
Directions
In a sauce pan, add 4 tbs of EV olive oil and the onion finely chopped.

Once the onion is translucent add the white wine, let it evaporate for 1 minute and add the tomatoes and two leaves of basil cut in large pieces by hand. Salt and pepper to taste. Cover the pan and cook at medium flame for about 15 minutes.

Meantime, prepare the polpettine (meatballs).In a bowl, add the ground beef, the cheese, bread crumbs, eggs and the parsley and garlic both very finely chopped.

Mix all the ingredients very well and roll the polpettine about 1/2" in diameter or smaller.

Once you have made all the meatballs, lightly fry them (1-2 mins) in olive oil.

Put all the meatballs in the sauce and continue to cook for another 15 mins. with the pan uncovered.

Cook the Maritati Pasta to an Al Dente consistency, pour in a large platter, mix with the sauce and meatballs and serve.

Garnish with grated pecorino and fresh basil.
Recipe Notes
Orecchiette and Maccheroni Casarecci (Trofie Pasta is also a good substitute) are easily made by hand or you can readily find them in your favorite store.
Categories:
Nonna Romana Sciddurlo
,
First Course Recipes
,
Meat Recipes
,
Italian Pasta Recipes
,
Puglia Recipes
,
Easy Recipes
,
All Recipes
,
Christmas Recipes
,
Thanksgiving Recipes
,
Easter Recipes
,
Valentine's Day Recipes
,
Orecchiette Recipes
,
Mother's Day Recipes
,
Father's Day Recipes
,
4th July Recipes
,
Labor Day Recipes
,
Homemade Pasta Recipes
,
Easy Pasta Recipes
,
Valentine's Day  Recipes
,
Easter Dinner Recipes
,
Mediterranean Diet First Course Recipes
,
Thanksgiving First Course Recipes
,
Christmas First Course Recipes
,
Easter First Course Recipes
,
Sunday Dinner Recipes