Mussels and Cannellini Beans Soup
Mussels and Cannellini Beans Soup - Zuppa di Cozze con Fagioli. A wonderful soup that will satisfy many appetites.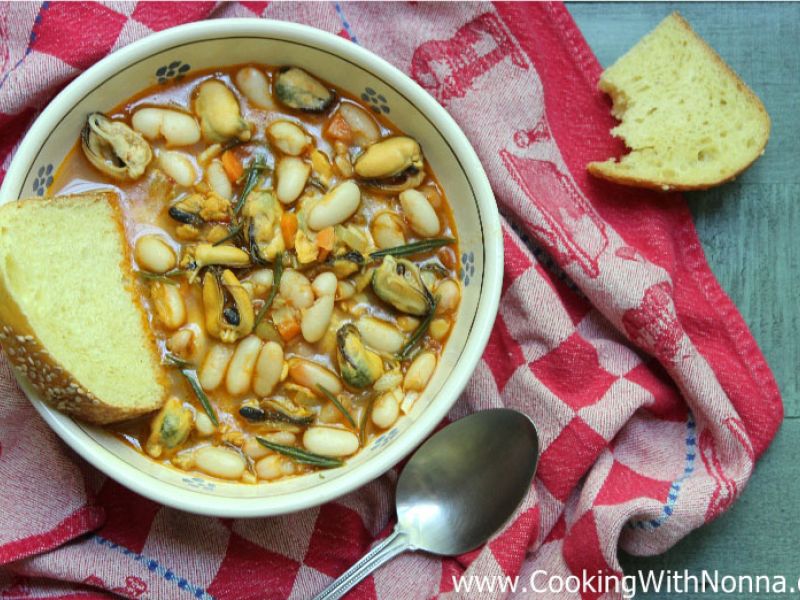 Ingredients
For 4 Person(s)
For the Soup:
1

pound

cannellini beans, dry or from a can

2

pounds

mussels, washed and beards removed

3

tablespoons

extra virgin olive oil

3

cloves garlic, finely chopped

1

stalk celery, finely chopped

1

medium carrot, finely chopped

1/2

cup

white wine

1/2

cup

crushed tomatoes

2

cups

water

2

sprigs of fresh rosemary

red pepper flakes, as desired

salt, as desired
Directions
If you are using dry canellini beans, put them in a pot and cover them with water. The water should be about 2 inches over the beans.

In the morning, add more water to bring the water level to 2 inches above the beans and cook the beans at medium flame. Cook the beans until they are al dente. Set aside.

Put a 12 inch sauté pan with a lid over a medium flame and add the mussels.

Cover the pan and let the mussels open, about 7-10 minutes. Stir occasionally.

Once all the mussels have opened remove the pan from heat and shell all the mussels, making sure to reserve their juice. Set aside.

In a pot, add the extra virgin olive oil, the garlic, the carrots and celery. Saute` all the ingredients for about 7 minutes at medium flame.

Add the wine and let the alcohol evaporate.

Add the crushed tomatoes and the rosemary sprigs. Add red pepper flakes as desired. Cook for 2 minutes.

Filter the juice from the mussels and add it to the pot. Add 2 cups of water from when you cooked the beans or if you are using beans in a can, add 2 cups of plain water. Adjust for salt.

Bring everything to a boil and add the mussels and the beans. Once everything comes to a boil, set the flame to medium and cook for about 15 minutes.

Serve with slices of Italian bread.