Nanina's Bocconotti Calabresi
Nutella or Jelly filled pastry. Perfect with a cup of espresso or tea. This recipe has been used by my mom for as long as I can remember, especially for Easter.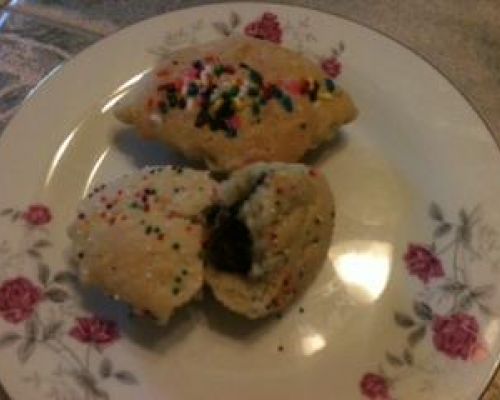 Ingredients
For 4 Dozen(s)
For the Bocconotti:
12

large eggs

2

cups

sugar

16

ounces

Crisco

2 1/2

pounds

all purpose flour

3

tablespoons

baking powder

Nutella

jellies or jams

colorful sprinkles, sugars or chocolate for drizzling

non-stick spray

mini tart tins about 3 inches
Directions
Pre-heat oven 350 degrees

In large bowl mix eggs, sugar and Crisco--mix well

In a separate bowl add baking powder to flour--use a wire whisk to mix together

Gradually add the flour mixture to the wet ingredients, if using a hand mixers set on low

Spray tins and layer the tin with mixture

Add a teaspoon of filling an then cover with more mixture

Smooth and remove extra dough to leave a clean trim

Place on cookie sheet and bake til golden brown about 20 minutes

Wait to completely cool before removing from tins
Recipe Notes
If the dough sticks to your hands add a tablespoon of flour and mix well. Do not over fill the center or it will leak out.
Reviews
Thursday, 14 December 2017
A childhood memory of my husband Giacchino. Thankful for these recipes.
- Castronovo