Nutella Rolled Cookies
Nutella filled rolled cookies recipe by Carine Goren if you want an easy recipe for a delicious cookie that looks like you are a master baker and will look beautiful on a platter, this is the one... and who doesn't love Nutella! Mangiamo!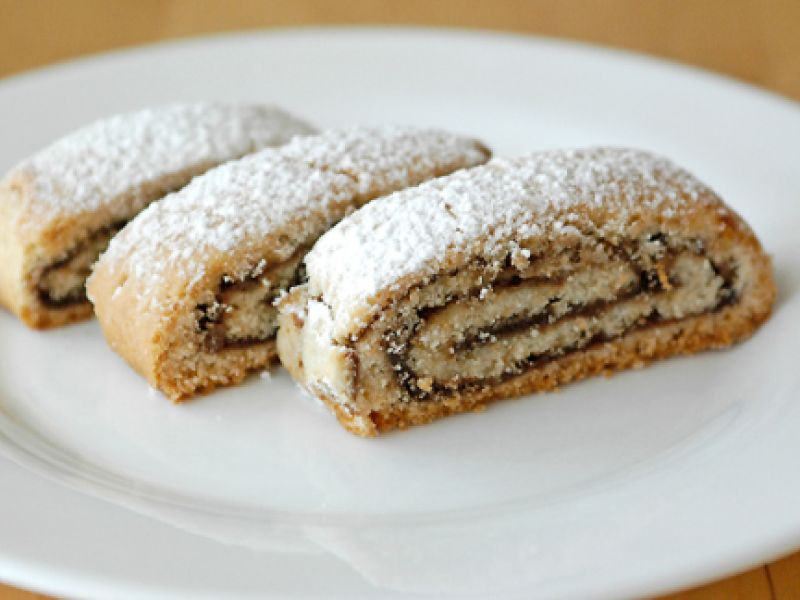 Ingredients
For 5 Dozen(s)
For the Cookies:
3 1/2

cups

(500 gr) all-purpose flour

1

tablespoon

baking powder

3/4

cup

(100 gr) powdered sugar

8

ounces

cold butter, diced (about 2 sticks of butter-I used salted)

3/4

cup

milk

1 1/2

cups

Nutella spread (I used a little more-almost two of the regular size containers)
Directions
In food processor (or KitchenAid Mixer with the Paddle attachment) process together the flour, baking powder, powdered sugar and butter in short pulses, until you get a flaky mixture. (I added one tsp of good vanilla too, but optional)

Add the milk and continue processing using short pulses, just until the dough is formed.

Heat the oven to 340°F (170° celsius).

Divide the dough into 3 equal parts. Roll out each one of them (on a floured board and floured rolling pin) to a rectangle 1/2 cm (1/5 inch) thick.

Spread the Nutella (if the spread is too thick, heat it up in the microwave for 10-15 seconds or more, keep an eye on it) on each one of the 3 dough parts, roll each part into a log. Place the logs (the "clean", stitchless side up) on a big baking pan with a piece of parchment paper on it. Or a pan with a light butter spray on it. Give them space apart from each roll.

Using a knife, mark slots on each log, a gap of 2 cm (0.8 inch) separates between each slot. This step makes cutting the cookies after baking very easy. Just make slight indentations, don't cut into it or the Nutella will come through when baking.

Bake for 25-35 mins, until golden. Make sure not to over bake.

Powder them with powdered sugar. Using the slots we've marked, slice the cookies, they slice nicely with a sharp knife and won't fall apart.

Keep in a sealed jar at room temperature.
Recipe Notes
Remember to keep the rolling pin and surface you're rolling the dough out on floured. I would definitely use some great vanilla, I think it makes a difference in the dough flavor It easiest to spread the Nutella (after you heat it a little in the microwave about 25 seconds for a regular size jar (lid off) on the dough with the back of a spoon. Keep hands floured while you roll it into a log. Gently lift each roll an place o the pan and give them some space between them to expand a little. They don't expand a lot though. It should make a lot of cookies... somewhere between 50 and 75 depending on slice size... don't go too thin with the slices or they may fall apart when you go to slice them. Taste one when they are warm, but the next day when they harden a bit they are best...so buttery, flaky and decadent.
Reviews
Monday, 12 April 2021
I sent an e-mail to VR@cookingwithnonna.com asking about the size of the rectangle...still waiting.....
See Full Review >>
- mca
Tuesday, 17 September 2019
I made a batch of these little treats, and they turned out very nice as far as presentation, however...
See Full Review >>
- Valori
Saturday, 24 March 2018
They are delicious. Still have to get the size right when rolling. Does anybody know what size the ...
See Full Review >>
- Toni frank