Orecchiette, Broccoli Rabe and Sun-Dried Tomatoes
Orecchiette, Broccoli Rabe and Sun-Dried tomatoes... heaven on a plate!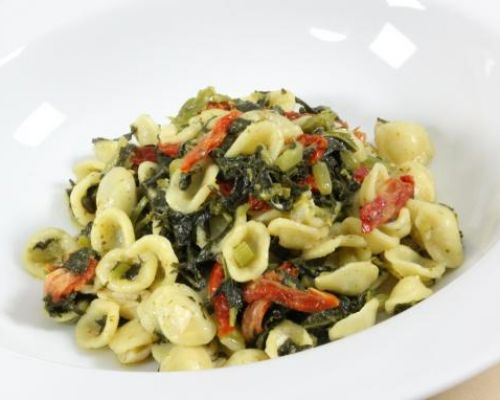 Ingredients
For 4 Person(s)
For the Orecchiette:
1

pound

Orecchiette, preferably handmade

1 1/2

pounds

broccoli rabe

6

filets anchovies, cut in small pieces

1/2

cup

sun-dried tomatoes, chopped

4

cloves garlic

2

teaspoons

capers

peperoncino

6

tablespoons

extra virgin olive oil

salt
Directions
Clean and wash the Broccoli Rabe and cut them in small pieces,

Put the EV olive oil in a pan with the garlic and peperoncino. Cook for 30 seconds on high flame and until the garlic is colored.

Add the Broccoli Rabe to the pan, lower the flame to medium and cook for 25-30 minutes with the cover on..Stir occasionally. If the Broccoli Rabe get dry, add some pasta water.

Add the anchovies, the sun-dried tomatoes and the capers to the pan. Stir well for 2 minutes and turn off the heat.

Cook the Orecchiette in salted water until they are Al Dente, drain and add them to the pan.

Stir for 2 minutes on high heat with the Broccoli Rabe sauce.

Serve immediately with a drizzle of EV olive oil.
Categories:
First Course Recipes
,
Italian Pasta Recipes
,
Easy Recipes
,
All Recipes
,
Christmas Recipes
,
Cooking with Rossella
,
Valentine's Day Recipes
,
Broccoli Rabe Recipes
,
Orecchiette Recipes
,
Mother's Day Recipes
,
Father's Day Recipes
,
Homemade Pasta Recipes
,
Mediterranean Diet First Course Recipes
,
Christmas First Course Recipes