Orecchiette with Broccoli Rabe Sauce & Crumbled Taralli
Orecchiette with Broccoli Rabe Sauce & Crumbled Taralli.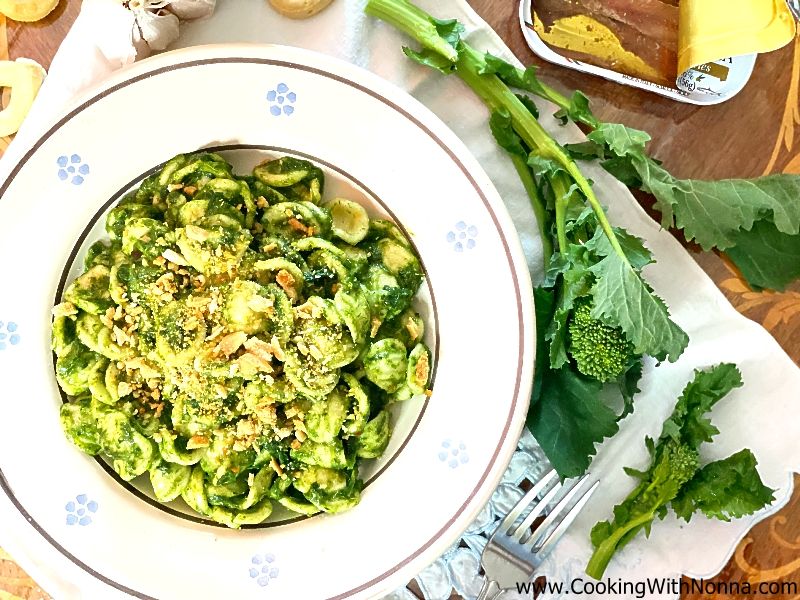 Ingredients
For 4 Person(s)
For the Orecchiette:
1

bunch Broccoli Rabe, ends trimmed

6

tablespoons

extra virgin olive oil

cloves garlic, sliced

1/4

teaspoon

red pepper flakes

2

ounces

anchovies packed in oil, drained

1

pound

orecchiette pasta

5

taralli, crushed into crumbs
Directions
Get the productts needed for this recipe

HERE!

Add the broccoli rabe to a pot of generously salted boiling water. Cook until the broccoli rabe are very tender, about 10 minutes. Drain and transfer to a bowl. Reserve the cooking water to cook the pasta. Keep the water boiling.

Purée the broccoli rabe with an immersion blender until smooth. Set aside.

Drop the pasta into the reserved cooking water.

Put a large sauté pan over a medium flame and heat the oil. Add the garlic and red pepper flakes. Cook until the garlic begins to turn golden. Add the anchovies to them pan and cook until they have liquified.

Add the puréed broccoli rabe to the pan and heat through. If the pan is dry, add about 1/4-1/2 cup of pasta cooking water to the pan.

Once the pasta is Al dente, drain and add to the pan. Toss in the sauce over high heat for 1-2 minutes.

Serve in warm bowls with a sprinkle of taralli crumbs.