Pasta e Fagioli with Pancetta
Pasta e Fagioli with Pancetta.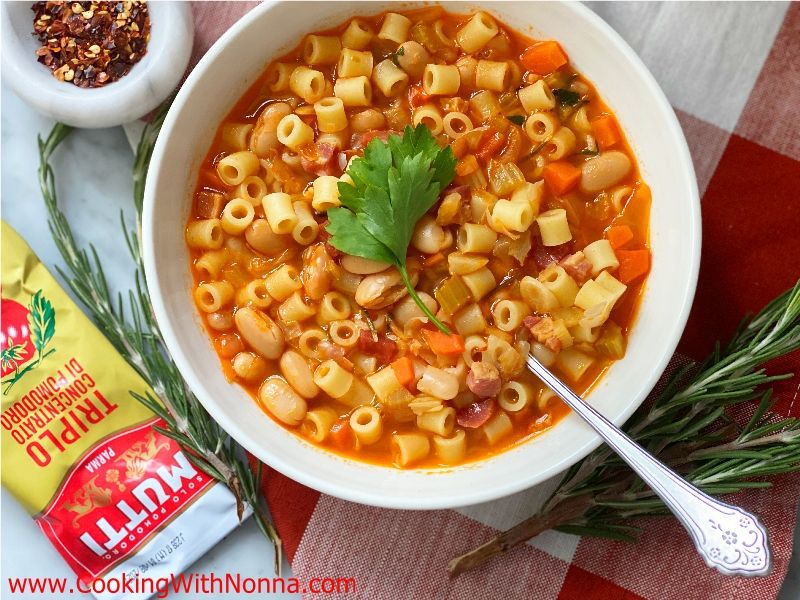 Ingredients
For 4 Person(s)
For the Pasta:
2

tablespoons

extra virgin olive oil

4

ounces

Pancetta, cubed

2

small carrots, cut into a 1/4 inch dice

1

medium onion, cut into a 1/4 inch dice

2

celery stalks, cut into a 1/4 inch dice

4

garlic cloves, sliced

2

tablespoons

tomato paste

2

sprigs fresh rosemary

1/4

teaspoon

red pepper flakes (optional)

2

19oz cans Canellini Beans, drained and rinsed

6

cups

chicken broth OR 6 cups water + 2 chicken bouillon cubes

8

ounces

dried Ditalini pasta

grated Parmigiano reggiano cheese for serving
Directions
Put a stock pot over a medium-high flame and heat the oil. Add the Pancetta and cook until crisp, about 5-7 minutes.

Lower the flame to medium and add in the carrots, onions, celery, garlic, tomato paste and rosemary. Cook until the tomato paste is fully incorporated and the vegetables are softened, about 5 minutes.

Divide the cannellini beans between 2 separate bowls and mash half of them using a potato masher. You may also purée these if you prefer! Add the mashed and whole cannellini beans to the pot along with the chicken broth. Turn up the flame to high and bring the pot to a boil.

Drop the pasta into a separate pot of generously salted boiling water. Cook the pasta for HALF the time of the package instructions. Drain and add the pasta to the stock pot.

Cook in the Soup until the pasta is al dente, about 5 more minutes. Remember, the pasta will continue to cook in the hot liquid, so you don't want to initially overcook it and make it mooshad!

Serve with a generous sprinkle of grated Parmigiano reggiano Cheese!
Reviews
Tuesday, 28 April 2020
Great recipe! My mother added greens to her soup so I did to this. Also, is the ditalini measured b...
See Full Review >>
- Cherylbruno