Pizza Flavored Taralli - Taralli alla Pizza
Pizza Flavored Taralli - Taralli alla Pizza.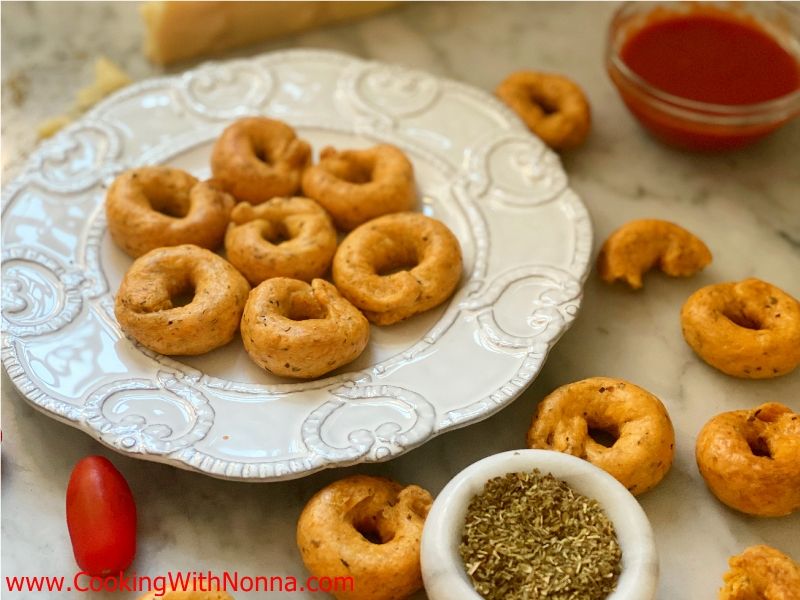 Ingredients
For 3 Dozen(s)
For the Taralli:
3 1/3

cups

all purpose flour

1/3

cup

grated Parmigiano Reggiano Cheese for serving

2

teaspoons

salt

3

tablespoons

dried oregano

1/4

teaspoon

black pepper

1/2

cup

plus 2 tablespoons extra virgin olive oil

2/3

cup

plus 2 tablespoons white wine, such as Pinot Grigio, room temperature

1/4

cup

Passata or Tomato Purée
Directions
In a mixing bowl, combine the flour, cheese, salt, pepper and oregano. Mix with a wooden spoon until well combined.

Add in the the oil, wine and tomato purée and mix with your hands until all the dry ingredients are absorbed and a dough forms.

Turn the mixture out into a clean work surface and knead until smooth and supple and the color of the dough is the same throughout. About 5-7 minutes. Form a ball of dough.

Cover the ball of dough with plastic wrap and rest on your kitchen counter for 30 minutes.

Bring 10 cups of water to a boil.

Prepare a clean cloth or towel to rest the taralli.

Preheat your oven to 400 degrees.

Line a baking sheet with parchment paper.

Working with A tablespoon of dough at a time, roll each piece of dough into a 1/2 inch thick rope. Loop the dough around your pinky to form a ring and firmly press one end into the other overlapping slightly.

Drop 12 taralli into the boiling water. Stir occasionally until they begin to float in the water, about 2-3 minutes.

Using a slotted spoon, transfer the boiled taralli to the clean cloth and allow them to rest until their surface is dry, about 10-15 minutes.

Place the taralli on the parchment lined baking sheet and bake for 35 minutes, or until the bottoms begin to brown. If you desire your taralli to be even more crunchy, bake them for an additional 5-7 minutes.

Notes:
*Ideally, try making taralli with two people so that one can roll them out and one can boil them and transfer them to the cloth.

*If working by yourself, I recommend rolling out 12 at a time, boiling and resting them until you have enough to fit on your first baking sheet.
Reviews
Wednesday, 05 January 2022
Fabulous treat. I have been wanting to make taralli since eating them at an Italian festival in Avig...
See Full Review >>
- Betty M