Pizza Margherita alla Napoletana
Pizza Margherita only as Neapolitans can make it.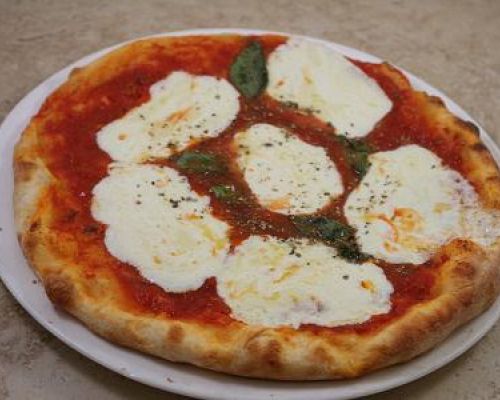 Ingredients
For 2 Person(s)
For the Pizza Dough:
1

pound

all purpose flour

1

ounce

fresh yeast

1/3

cup

extra virgin olive oil

1/2

cup

warm water

salt & pepper
For the Topping:
1

pound

fresh mozzarella (Bufala mozzarella, if available)

1

cup

marinara sauce

fresh basil

extra virgin olive oil

oregano
Directions
Dough Preparation:

Mound the flour in a pile with a hole in the middle.

Dissolve the yeast in warm water.

Add all the dough ingredients to the flour.

Work all the ingredients together until the dough forms into the shape of a ball. Make sure you really work it well.

Let the dough rest for 2 hours covered with plastic wrap at room temperature.

Stretch the dough with a floured rolling pin into a 12"-14" circle.

Lay the dough flat on either an aluminum baking pan or a pizza stone.

Add marinara sauce and mozzarella in thin slices.

Drizzle olive oil and garnish with fresh basil and oregano.

Bake in the oven at 350F for approximately 10-15 mins. or until crust is golden brown.
Categories:
Nonna Amalia Lubrano
,
Appetizer Recipes
,
First Course Recipes
,
Entree Recipes
,
Bread and Focaccia Recipes
,
Campania Recipes
,
Easy Recipes
,
All Recipes
,
Valentine's Day Recipes
,
Super Bowl Recipes
,
Pizza Recipes
,
Mother's Day Recipes
,
Father's Day Recipes
,
Memorial Day Recipes
,
4th July Recipes
,
Tomato Recipes
,
Labor Day Recipes
,
Summer Appetizer-Side Recipes
,
Mediterranean Diet Appetizer Recipes
,
Mediterranean Diet Entree Recipes
Reviews
Thursday, 14 December 2017
love this but i think it should say cups not pounds as some dont understand it
- cxander08
Thursday, 08 September 2016
This recipe will inspire you to build a wood fire pizza oven in your backyard! or a least inspire yo...
See Full Review >>
- jmetrolucies