Risotto alla Bolognese
Risotto alla Bolognese. Perfect on a winter night or even for Sunday Dinner.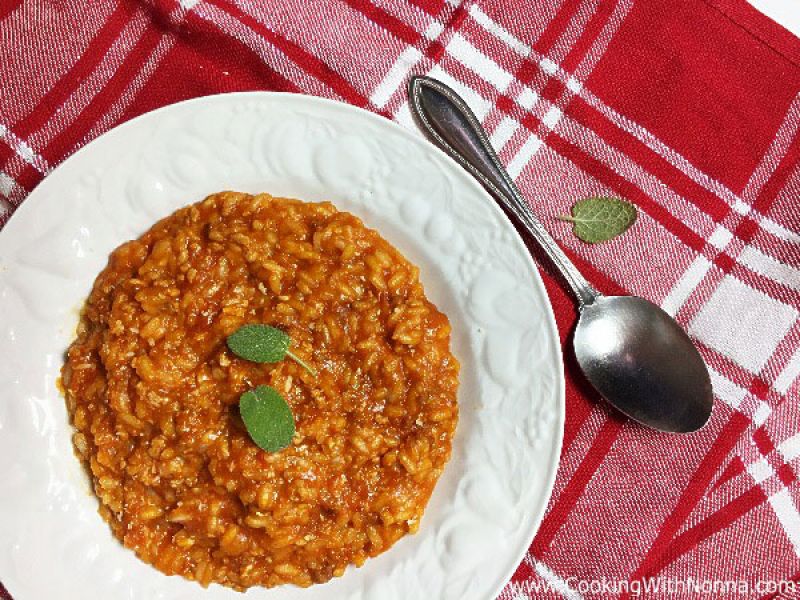 Ingredients
For 4 Person(s)
For the Sauce:
3

tablespoons

extra virgin olive oil

4

cloves garlic, chopped

1

pound

mixed ground meat (pork, veal and beef)

3

bay leaves

3

sage leaves

pinch of nutmeg

red pepper, as desired

salt, as desired

1/2

cup

red wine

6

ounces

tomato paste

1

cup

crushed tomatoes
For the Risotto:
1

pound

arborio rice

10

cups

beef broth

Parmigiano cheese for garnishing
Directions
In a pot bring the beef broth to a boil and keep it simmering.

For the Bolognese:

In a saute pan, add the olive oil and the chopped garlic.
Let the garlic saute` for a few minutes until it turns lightly golden and add the ground meat.
Saute` the meat by braking it up with a wooden spoon.
Add the bay leaves and the sage leaves broken by hand. Add salt and red pepper flakes as desired.
Saute` the meat until it turns brown. Add the red wine.
Let the alcohol evaporate for a few minutes and add the tomato paste and crushed tomatoes.
Turn the flame to low, add 1/2 cup of hot beef broth and cover the saute` pan.
Cook for about 10 minutes. If the sauce gets dry, add some more beef broth. Once it finishes cooking transfer the sauce to a large pot.

For the Risotto:

In the large pot containing the sauce, add 1 cup of beef broth and the rice. Set the flame to medium and begin stirring the content.
As the liquids dry up add 1 or 1/2 cup of beef broth at a time and continue stirring.
Continue the stirring and adding the broth for about 20-25 minutes or until the rice feels al dente. You will probably use 7 or 8 cups of broth to make the risotto.
Serve and garnish with Parmigiano cheese as desired.
Reviews
Tuesday, 10 March 2020
What a wonderful Italian peasant food! It is the great grandfather to 'Hamburger Helper' (lol!) Rice...
See Full Review >>
- Madd Matt